The girls are about to be tempted by a new competitor in the 'Love Island' villa - but who will he couple up with when he enters?
There's a fresh pair of eyes entering the reality series tonight, with 26-year-old Teddy Soares (hopefully) about to shake things up for the contestants.
With hardly any love shown between the couples in the villa these days (not even Jake and Liberty look like they'll survive much longer), we're all wondering when the hell the producers will introduce Casa Amor - hopefully, it'll be after Teddy enters.
Ahead of tonight's newest episode, here's the lowdown on the new 'Love Island' bombshell, who hails from Manchester and is a Senior Financial Consultant.
Why did you sign up for 'Love Island'?
I think I'm ready for love now. Law of attraction is probably what I believe in, so being in the villa is part of that thought process.
I'm not getting any younger. I've always been the type of guy to be in long relationships. Never broken three years though. If I do find someone in the villa, I'm going to take it seriously. 
What do you think of the girls?
I want to get to know all of the girls. I'm not afraid to step on toes to get the girl I want.
What do you make of the boys?
I think they're all interesting. I think they're all cool. I think Brad needs a bit of direction – I think his chat is a bit one-sided to be honest. When I come in, I'm going to say Brad, you need to ask some more questions. I think Jake's really funny, I'm always laughing when I see a moment with him – I think he farts too much to be honest – but everyone seems really welcoming and chilled as well.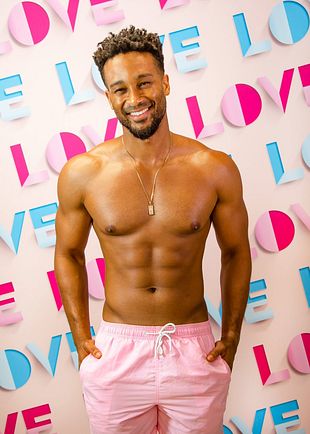 What do you think you will bring to the villa?
I'm cuddly, caring and all my friends, when they have an issue, they call me and confide in me. I'm always that person to lean on. I think I'm going to add that element with the boys. From a girls' standpoint, they're going to have to get used to me stirring a few pots and causing a bit of a ruckus. I do think hopefully, me walking into the villa the girls will have something to look at.
How would your friends and family describe you?
In a nutshell, someone who is always generous and considerate of other people. And also someone who is a go-getter. I've been quite stubborn with what I want. So if I do see something I want, I do go for it. But I am still generous and will care about the way I go about doing things. If it will impact someone, I will weigh that up. I'm always up for banter, I'm always up for a dare. I'm definitely looking forward to some people thinking, "Wow Teddy's done that?"
See what happens tonight when Teddy enters the 'Love Island' villa tonight. The series continues at 9pm on Virgin Media One and Virgin Media Player.