You don't need us to tell you that going on 'Love Island' is a huge money-making opportunity. While they may only earn about £250 a week in the Villa, Islanders who enjoy a significant stint on the show generally rake in the dosh in the following months and up to a year after the show, with some of the more successful contestants lapping up earnings far beyond that.
Within hours of recent Irish Islander Greg O'Shea appearing on the show, his Instagram followers went up by the thousands. That alone should promise him a few lucrative brand endorsement posts when he gets out.
High profile celeb agent Matt Nicholls, who has taken many a 'Love Island' contestant under his wing after the show, told entertainment.ie that's it's all about the amount of time you can get on the show.
"The longer you stay in the show, the more time you have for the audience to get to know you and to build those all-important Instagram numbers," he said.
"It's a good barometer of fame and of your earning power. The greater the following, the more potential customers and the greater fees can be commanded for endorsements such as eponymous fast-fashion clothing ranges as well as for one-off paid posts. I would fully expect the most popular Love Islanders to each make £1m in the 12 months after the show."
Last year's winner Dani Dyer, who won the show with now ex Jack Fincham, has gone on to make a cool £1.7million after 'Love Island' thanks to the likes of a clothing range with In The Style, deals with Mark Hill Hair, a Christmas panto with dad Danny, a book and much more.
You don't have to win the show to make your millions though. Series two's Olivia and Alex Bowen, who are now married, are worth an impressive £4.4m. As well as modelling and presenting gigs, the couple secured a lucrative magazine deal for their wedding as well as £50k from TLC. These two also have a joint clothing label called Exempt Society, which is expected to turn over £950k in the next two years.
Despite breaking up, 'Love Island' 2017's winners Amber Davies and Kem Cetinay have also secured well over a million since leaving the show. While season two's Kady McDermott has made a similar amount. Last year's Rosie Williams, who had less than three weeks in the Villa, claimed she'd taken in an entire year's worth of her previous salary as a solicitor within the first month of leaving the 'Love Island'.
A representative from a leading Irish PR company told entertainment.ie, "It's the long-term brand endorsements, clothing collections, books, work-out videos etc. where the real money is made."
"Some of the contestants like Dani Dyer have it down pat – teaming up with the likes of Suzanne Jackson for a line of false lashes, a clothing collection with In The Style etc. and building herself as a brand rather than jumping on any collaboration that comes her way.
"I think Maura will be the one to watch when she emerges because she has the support of the Irish and UK public, so she will likely be able to command a higher rate for activities and appearances. She also had an organic online following before she entered and has done some work of this nature in the past so no doubt she'll be clever about those kinds of jobs when she comes off the show."
An online following is key for many brands to want to get on board with a celebrity. Take a look at the very cool graph below by Oddsmonkey that demonstrates every 2019 Love Islander's earning potential from start up until now.
Here's how it looked on 14th of July 2019, with Molly-Mae emerging as the current most successful, followed by Tommy and the Lucie. Maura is currently in at an impressive sixth place, likely earning £6,470 for just one Instagram post.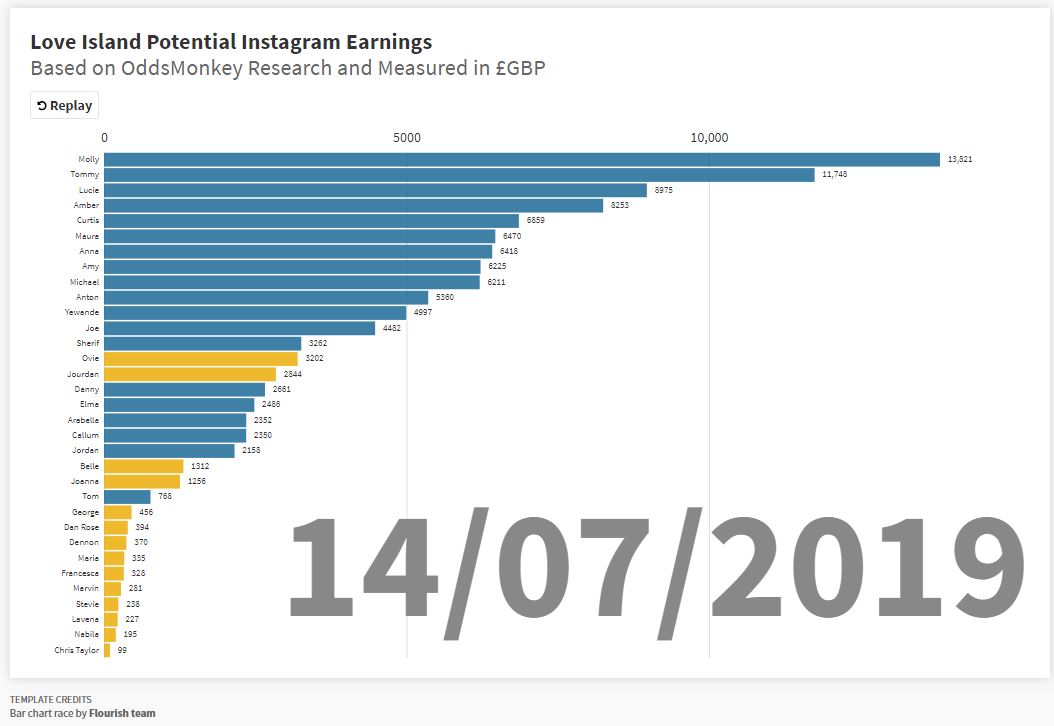 So what exactly do these Instagram brand endorsements look like? Well pretty cringe, to be honest, but considering they can get up to 13 grand per post, we can see how it's easy to sell your soul to a product.
2019 contestant Callum (remember him?) may have only had a week on the show, but that was probably because he couldn't wait to get back to his car air fresheners.
George just can't get enough of them either.
https://www.instagram.com/p/Bz_KgbAnCa-/?utm_source=ig_web_copy_link
Ah Elma, not you too.
Speaking about Love Islanders who leave early on, Matt Nicholls said: "It's a crowded celebrity market and a week of exposure is not long enough to build a loyal following or sustained interest so I wouldn't imagine there would be great riches for anybody leaving so soon."
"Although, if they have amassed a decent social media following they could still make money through paid posts."
Car freshener it is then.
"A luxury brand is less likely to want to be associated with reality stars," our Irish PR told us. "However, for affordable beauty brands, high street fashion brands etc. they would be perfect because they are glamorous and good looking but also relatable."
The likes of Boohoo, Primark and Pretty Little Things are a perfect match for Love Islanders with many going on to do modelling and clothing deals with the UK giants. Last year's finalist Kaz Crossley even went on to curate her own collection with Boohoo.
Nightclub appearances can also prove to be very lucrative for the blokes. Last year's Adam Collard took on a massive 61-date tour of nightclubs across the UK and Ireland, earning about £300,000 for his trouble.
Nicholls told us, "TV appearances can range from anything from a few hundred pounds for an appearance on a Daytime show to a five or six figure sum if they get on one of the marquee series such as 'I'm A Celeb' or 'Strictly'."
Our Irish PR also revealed that former 'Love Island' stars can cost significantly less to get on board with a brand than influencers in Ireland.
"We actually looked into hiring some of the ex-contestants straight after the show the year before last – we wanted to book Kem & Amber for an event and were surprised that the cost was about €3k or €4k for the two to do an event in Ireland.
"Flights and expenses were to be paid for as well. We were shocked because we had about €10k in mind for the activity and comparatively in terms of their stats – followers etc., Irish influencers charge phenomenally more.
"It seems in the UK they are booked so often for appearances etc in the months following the show that the agents don't charge massive amounts, perhaps in order to secure more work."
While 'Love Island' sounds like a fast way to make a quick buck, it is also undoubtedly an incredibly overwhelming experience.
Matt Nicholls had some wise words to this year's Islanders emerging from the Villa, "My advice would be to keep your old friends around you. Everybody will want a piece of you and the adjustment to the "new life" can be difficult. Vitriolic online criticism and hyperbolic flattery are both always just a click away so it's important to meet with triumph and disaster and treat them both the same. Enjoy every moment, stay grounded, work hard, be pleasant to everybody."
However, if you do still want to do all that while still earning a shed load of cash, Matt advises Islanders to "carve a niche and focus on what you're passionate about".
"In 12 months time, there will be a new group of Love Islanders so it's important to be known for something else other than the show to ensure longevity. Oh and most importantly, get a good agent of course."