To be fair to Leslie, she did look unrecognisable on the set of 'American Horror Story: Roanoke'.
The pint-sized ball of sunshine that is Leslie Jordan recounted the slightly embarrassing moment he met Lady Gaga while on the set of the Ryan Murphy production - he failed to recognise the star under all of her make-up.
The pair starred opposite each other on the sixth season of Murphy's horror anthology 'American Horror Story', sub-titled 'Roanoke' and centring on a creepy area of land that's haunted by spirits. One of these spirits was Lady Gaga as Scáthach, who is bizarrely enough a Scottish warrior from Irish mythology, but in this interpretation, she's a forest-dwelling witch. And it turns out that because of her Pagan-looking get-up, her co-star didn't recognise her.
Speaking on the Apple Podcast 'Trailblazers Radio with Fancy Hagood', Leslie Jordan retells the first time he met Lady Gaga on the set of the TV production. The 67-year-old confessed that he was first introduced to her under her real name Stefani Joanne Angelina Germanotta, and presumed she was an extra.
He said: "The first day, I showed up and there was a girl standing there and they said, 'Leslie, have you met Stefani?' And I thought she was maybe an extra. I didn't know who she was.
"She's so tiny, a little wisp of a thing, and I went over and they said, 'Have you met Stefani?' And I said, 'No. Nice to meet you, welcome on board'."
He continued: "They could tell I didn't know … They go, 'Leslie, that's Gaga.' I go, 'Nuh-uh.' They said, 'Yes, it's Gaga.'
"And she was just adorable."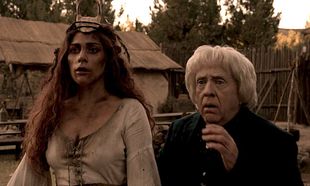 Leslie and Gaga shared one scene together while on the production, but both have appeared in 'American Horror Story' in other forms; the former appearing in a recurring capacity in three seasons of the horror franchise, while Gaga famously played a pivotal role in 'Hotel' as The Countess of the mysterious Hotel Cortez.
Both Leslie Jordan and Lady Gaga share the status of being LGBTQ+ icons, being extremely popular within the community for being all-round meme-able people; Leslie for his hilarious social media posts and appearances on 'RuPaul's Drag Race', while Gaga naturally for her music and general oddball sayings. Here's hoping the pair share another memorable moment together at some point again in the future.