Director, writer and executive producer Michael Patrick King discussed the ten-episode revival now that the season finale is about to air.
With the 'And Just Like That...' finale arriving tomorrow, many have been speculating that Kim Cattrall's Samantha will make a surprise appearance. Unfortunately, according to the director of the series, fans won't be treated with a cameo appearance of the character (another reason to contemplate whether it's worth sitting through the ending of the dramedy).
Throughout the season, from within five minutes of it starting really, the 'Sex and the City' revival has made a number of brief references to Samantha and her escape to London, leading fans to speculate on the season finale. However, we can nip all of that fanfare in the bud as Michael Patrick King has said the character truly isn't about to make an appearance.
When asked in an interview about the series with Variety if it would ever happen, he said: "No. Just like there was no thought that Kim would ever participate in 'And Just Like That...' because she's said what she had said.
"The only place I participate in magical thinking is in fiction. You take people at their word, and you're a smart producer — you don't back yourself into a corner. Magically thinking, it's great to have Samantha. I have no realistic expectation of Kim Cattrall ever appearing again."
When the revival series was first announced, the news was delivered that Cattrall would not be a part of the return to the 'Sex and the City' universe. The reason being is that she has burned bridges with Sarah Jessica Parker and the rest of her co-stars.
Since the show has aired, Cattrall has been seen sneakily "liking" Tweets from viewers of the series who have been leaving scathing reviews of it. Cattrall will instead be appearing in the 'How I Met Your Father' series with Hilary Duff.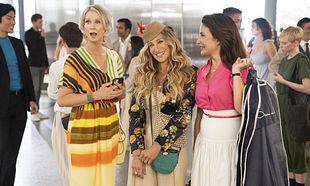 Michael Patrick King discussed many aspects of 'And Just Like That...' including the decision to remove Chris Noth from the season finale. Last December, the actor was accused of a number of sexual assault allegations. King said of his omission: "I wanted the show to be focused on the stories of these amazing actresses and their efforts in these last 10 episodes. And I didn't want the entire story to be about whether someone was or wasn't in the show. Mr. Big and Chris Noth, they're not the same person — and that would've made them the same person."
King also spoke of Willie Garson, who tragically passed away from pancreatic cancer in September. Originally expected to appear in all 10 episodes, the director revealed what he and the writing team had already been padded out for his character Stanford Blatch: "Before I knew that Willie was sick and couldn't complete it, Stanford was going to have a midlife crisis.
"Stanford's character always had a borderline career as a manager, and we were like going to explore the fact that it wasn't a real career. It was going to be Carrie and him, feeling the shifts. Anthony (Mario Cantone) and him were probably going to have split anyway."
Finally, on the extremely mixed reaction fans have had to the entire series - King has seen it all: "I monitor in macro, not micro. I monitor in the drum beats: 'This is the best thing I've ever seen! This is the worst thing I've ever seen. They should all be killed! I can't live without them. The clothes are terrible; the clothes are great.' I'm not into the minutiae of anything."
'And Just Like That...' concludes with episode 10 on Sky Comedy and NOW this Thursday, February 3.