Although Jack Keating's 'Love Island' stint was short-lived, he certainly has plenty to say about life in Casa Amor and about his fellow contestants.
This year's 'Love Island' has been an absolute roller coaster (and we just want to ride it). So it comes as no surprise to us when Jack Keating tells us that he was fairly intimidated walking into a group of such gorgeous, strong women who he too had been watching for three weeks on TV. Little did he know that "family friend" Jay was on the other side of the experience.
As for the villa? It's exactly how he expected it to be, "what you see is what you get really, it's the villa set up and there's cameras everywhere". But there's a side to villa life that we, as viewers, don't get to see.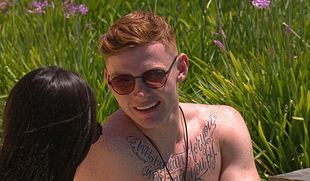 Filming goes on for hours, "[they] are long, long nights filming, then you've gotta wait for everybody to do their beach hut". Keating explains, "[We've no idea] what time it is 'cus we've no watches, there's no phones, there's no clocks anywhere. We had a feeling it was around six or seven when we went to sleep that morning. Sleep is a bit of a luxury".
Having watched the antics unfold on TV for three weeks before debuting as a bombshell in Casa Amor, the last episode Keating watched was the heart rate challenge and reckons the three girls who would've got his heart racing would be his "number one" Paige, but also Danica and Tasha.
Entry into the main villa was also a luxury that wasn't afforded to all bombshells that entered the show during Casa Amor. Of the men and women that did make it, Keating doesn't understand why the lads like Dami would pick someone like Summer, "why bother bringing a girl back in... if you'd like regret it instantly?".
Of the couples he thinks do have a genuine connection, he's backing the fan favorites, "team Davide and Ekin-Su, I genuinely think they're gonna go the whole way". However, viewers will know that Ekin-Su is keeping a secret from Davide that could mess everything up — neither Davide or the viewers know what happened between she and George under the sheets in Casa Amor.
Someone who does know what went down, however, is Jack Keating. While he keeps schtum about the details since "I want to leave it to him to have his side of the story", he does reveal that if he had to rate it on a scale of one to 10, 10 being the worst thing someone could do, he'd rate it as pretty bad "I'd give it an 8.5". Gasp.
Keating was full of beans when it came to his experience, telling us that if he had to vote in the last dumping, he'd have sent Jay and Chyna home too since Dami had a connection inside, he said the fridges in the villa are full of goodies, and that he's open to doing more reality TV, especially dating shows.
We don't think he'll have to worry about going on more dating shows any time soon though, since he says his DMs are full, "I need to get a personal assistant I think to help out with all the messages".
Love Island continues tonight at 9pm on Virgin Media Two and Virgin Media Player.