Although that is not what drew Roberts to the part, as she tells entertainment.ie and other journalists at a recent Amazon press event in London alongside showrunner Sam Esmail.
"I didn't even know what we were talking about when we were first talking about it," she says. I was just thinking of it in terms of the material because that is what matters. It doesn't matter if it is going to be on the stage or on television, and he [Esmail] just had such great ideas about the visual style of it, and just really taking it to the next level. So that is what I said yes to."
Later expanding on this further she says, "I've never called myself a film actor. I'm just an actor, so I think for me I go where the parts compel me. I don't know a lot of creative people that would compartmentalise their places to be creative in that way. We're all just looking for the thing that we think we can bring something of value to. It's not really the medium so much as the pursuit, I don't think."
Roberts was a fan of the hugely popular experimental-fiction podcast 'Homecoming' is based on, written by Micah Bloomberg and Eli Horowitz. Luckily, Sam Esmail was too and a Hollywood match made in heaven soon developed.
"I fell in love with it," Esmail says. "Contacted the writers Eli and Micah to express my interest in adapting it."
"And then heard that she [addressing Roberts] liked the podcast. Of course, I got super excited, because I'm a huge Julia Roberts fan, who isn't?
"Even Julia is a Julia Roberts fan!" he laughs.
"We then Skyped and hit it off. It was just an instant connection," he adds. "We didn't even talk about 'Homecoming' for the first 45 minutes."
Roberts plays Heidi Bergman, a caseworker at the Homecoming Transitional Support Center, a Geist Group facility helping soldiers transition back to civilian life. However, as those that follow the podcast know, all is not as it seems.
Speaking about the character of Heidi, Roberts says, "Well, interestingly, this is a character that I picked so much because of the circumstances that surround her. I can't isolate her in any way, the way I sometimes can on other pieces of material, where you can kind of imagine 'Okay, what if we put her in this kind of scenario?', which can help you understand this person more fully.
"But for Heidi, she is so... intertwined with everything that is going on around her. And Sam just turned it into this incredible... I mean, I have never walked on to a set and just thought 'Wow! This is incredible, this is amazing'. I mean, we would just stand there and marvel what was there for us to play inside of."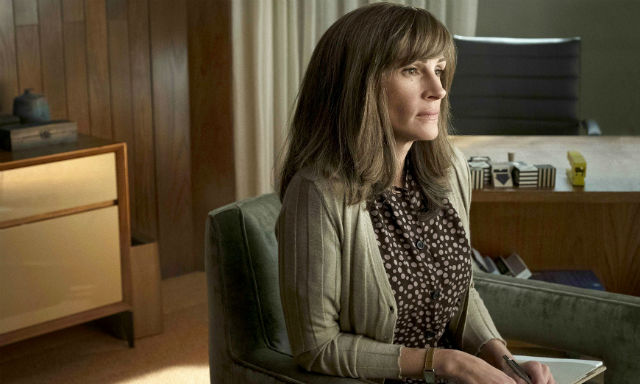 Roberts also admits that she didn't really do any research for the character of Heidi, but thanks to Esmail she didn't need to. "So much was already there in the way that the scripts were written, Sam's fingerprints were on everything," she explains.
"He was my source material really and he had such a clear idea of each character and what made us all tick together, that I just relied on him probably more than I've relied on someone other than my husband in a long time."
There also wasn't much trouble in leaving the character of Heidi behind at the end of the day, "It is not difficult, it just isn't," she says. "That's kind of why it was so great making this. We worked so hard, we accomplished so much in a day, that you felt you just wanted to say 'Okay, there's that day'. And then you go home and just have your life.
Esmail chimes in: "And your home is just full of life. Her kids are great, her husband's amazing."
Roberts adds, "Instead of making dinner while my kids were doing homework, I was probably doing my homework."
She also didn't hesitate about being involved in a thriller again - "I love that genre," Roberts says. "We were talking before about 'The Parallax View' and movies like that. I've been lucky to be in some thriller genres like 'The Pelican Brief' [and 'Sleeping with the Enemy' someone adds in] .... Ohhh, those cupboards. I mean that is scary," she says, earning a laugh from the room.
It's one of many hearty laughs Roberts charms from a room of journalists, winning everyone over with her endearing, self-deprecating wit. When informed that Neil Jordan had said he couldn't have made 'Michael Collins' without the star power of Roberts, she exclaimed, "What? Did he really? Oh he's a liar. And I love him.
"Neil is lying and please just don't tell anybody I said that."
Despite this, Julia is aware of the weight she can bring to a project, "You know there's something that makes me really joyful," she says. "When I believe in something and I love it so much and if it is in a place of not being able to get over that hump to go... that if I can push that... it makes me feel really proud.
"I think my happiest moment  of feeling that way was doing a play on Broadway a number of years ago ['Three Days of Rain']. When I was a young person my dad took me to the theatre all the time and I thought it was so special. So many people came up to me after the play and would say 'I've never seen a play on Broadway before and I never would have come if it weren't for you'. And that was when I felt the happiest - that I had brought people to something that I think is so special."
'Homecoming' is available to watch now on 'Amazon Prime'. For those that have listened to the podcast and think they know what will happen, Esmail, who also created 'Mr Robot' says: "We loved the podcast, that's the reason we wanted to make it as a TV show but we also didn't want to imitate the podcast. We wanted to create our own new thing out of it."
Alas, at the end of our time with Julia, there was no Hugh Grant in the room from 'Horse and Hound' asking her how long she expected to stay in London for... next time.