It's that time of year again when a batch of brand new celebrities head off to the Australian jungle to be tortured for a few weeks, and somehow the drama of it sucks us all in.
This year's show gets underway next week, with Holly Willoughby stepping in to fill Ant McPartlin's shoes.
Check out the official lineup below for 'I'm A Celebrity... Get Me Out of Here!' 2018:

Emily Attack
28-year-old Emily is best known for her roles in 'The Inbetweeners' and 'Dad's Army'.
 "I am at an age where I want to flip things on the head and do something mad and exciting," she said. "And this is definitely very exciting! I couldn't say no. I don't have any real phobias but I don't like creepy crawlies just like everyone else."
Emily went on to say:  "I am single at the moment. And never say never (to finding a romance in the camp). We are in a situation where we are all not going to smell our best, nor look our best and I can't really imagine it happening but hey, who knows?! It's a bit of fun!"
Emily promises to be a shoulder to cry on as well as providing plenty of laughter. "All I ever want to do is have fun and a laugh. I would like to hope people will come to me if they are having a bad day in the camp. I am a very supportive person and that's the role I hope to play in there."

John Barrowman
Barrowman is an actor best known for his roles on 'Doctor Who' and 'Torchwood', and his variety show 'Tonight's The Night'.
The 51-year-old lists confined spaces and jumping out of planes has some of his phobias.
Admitting he is both excited and nervous about going into the famous TV camp, the 51-year-old thinks people will be surprised when they discover he is one of this year's contestants. "My fans will freak out," he reveals. "I think they will be surprised but I have known for quite a while and I am both excited and nervous now. I like a challenge, I like a competition and I might make some new friends out of it. To be blunt, it will also be nice to have some 'me' time! Nobody will be able to get in touch, text or email. I know it's a game and I am not going in to be a misery. And I would be over the moon if I won. I would be the King or Queen of the Jungle."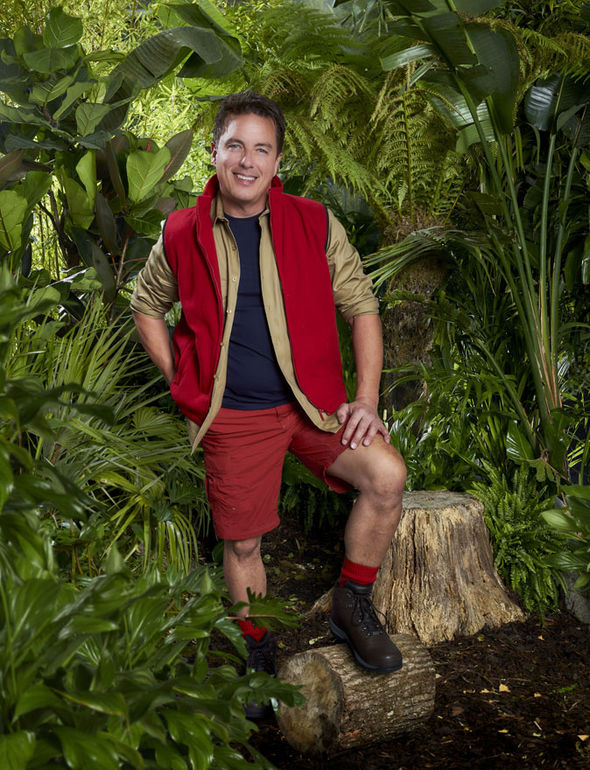 Fleur East
Fleur is best known as the runner-up in 'X Factor' 2014 and went on to release an album in 2015.
The singer, 31, reckons going on 'I'm A Celebrity' will be way tougher than performing live on stage and facing Simon Cowell on 'The X Factor'.
"Every time I think about it, I get butterflies in my stomach," she confessed.
"I have been in denial that I am going in. I have never done anything like this before and neither have I ever camped or slept outside."

Anne Hegerty
You'll recognise Anne, 60, as The Governess in game show 'The Chase'.
As the oldest female celebrity going on 'I'm A Celebrity' this year, Anne definitely does not want to be treated with kid gloves in the trials as she admits her Asperger's condition could make life tough for her.
"I do respond well to structure," said Anne. "I think it will be quite structured in there. I will understand 'at this time I have to fetch wood and water' - doing that will make sense. But being surrounded by people I can't get away from or those who talk all the time can be a source of stress."

Sair Khan
This lady will be known best to 'Coronation Street' fans as Alya Nasir, who she has played for nearly five years.
30-year-old Sair has admitted she is most worried about not being able to hide behind a character: "The weirdest thing for me is going in as myself. My character is so different to me. She is serious, stern and she can be uptight. I am the opposite! I am such a goof, I am always laughing, being cheeky and I don't take myself too seriously. I guess people haven't seen me and I want them to like me! If they don't like her, that's fine as it is a character but if they don't like me, then that will be hard to take."

Nick Knowles
TV presenter Nick is known for his show 'DIY SOS' as well as many more BBC presenting roles over the years.
Speaking about his time in the jungle, the 56-year-old said: "I'd like to think I will do well under pressure but we will find out. I don't have any phobias. Anything I have been nervous about in the past, I have gone out and done it, as I don't like being frightened of things. I am used to physical things and I would sleep on a snooker table if I needed to so that (being in the jungle) shouldn't hold too many problems for me."
Nick added: "There will be no book to read but I am hoping everyone will be like a book to read and learn! I would say the toughest thing is actually going to be separated from my family. My family are surprised that I took this on as I don't do much in reality TV but they all think I will do reasonably well. I hope I make my family proud whilst I am in there."

James McVey
This young popstar has said it's a dream come true to be going into the jungle. 24-year-old James, who is part of the band The Vamps, has been watching the show for the last 15 years.
"It's only just starting to sink in," he said. "But this is a dream come true for me. It's probably the only show I have watched throughout my life so I am really excited to be part of it!
"I want to do something that puts me outside of my comfort zone. I am so much more nervous about this than I would be going on stage to perform a gig. I'm lucky when I'm on stage as there are four of us and I can ride off them and share any stresses I might have."
His band mates are fully supportive of his decision to take some time out from touring to go on the programme: "I am actually going to miss a few gigs in South America and over here in Britain. I have recorded all my guitar (bits) so they can play that out at the same time. Our bass player is really good so he could play some of them too. They are really excited. They think it's going to be great even though they were surprised initially as they thought I would struggle! But they have been so supportive and I am glad they are."

Harry Redknapp
Former Tottenham Hotspur and West Ham manager Harry Redknapp reckons going into the jungle will be far easier than being the boss of a losing football team – although he admits he's never actually watched the programme.
"There's nothing tougher than being a manager of a football team when things aren't going well," said Harry. "When the results are bad, believe you me being a manager is a very tough, lonely occupation. You feel responsible however many people support your team every week. The buck stops with you. You haven't got many friends when it's not going well as a football manager. So no I don't think doing this will be tougher. But to be honest, I have not actually watched the programme! I watch sport all day and all night when I'm at home and we are out three to four nights a week."
Reflecting on the reaction of his sporting colleagues when they find out he's signed up, Harry said: "I think they will be surprised. Some of the players I have managed when I go in the coffin trial will hope it doesn't open up! I am sure they will watch it. Hopefully they will laugh!"

Rita Simons
Former 'EastEnders' star Rita Simons was persuaded to go in the jungle by former contestant, Larry Lamb. Rita played Roxy Mitchell for ten years until her character was killed off in 2017 in the BBC1 soap.
Rita said: "I am excited about going in the jungle. I know quite a lot of people who have done it including Larry Lamb. Larry is like my Dad and he is always advising me. He said he couldn't advise me more to do it as he had the best time ever."
She has yet to tell her famous Uncle – Lord Alan Sugar – but her husband, Theo, and two daughters are very excited she is joining the camp. "My kids would be gutted if I didn't do it," she said: "And my husband thinks I should get on and do it like I do with everything in life. But it's going to be so weird not being able to talk to them. I have just done a year's touring (with the Legally Blonde musical) but at least then I could chat or FaceTime whenever I wanted. I am going to miss them so much."

Malique Thompson-Dwyer
As one of the youngest contestants in the camp, 'Hollyoaks' actor Malique Thompson-Dwyer, 20, is looking forward to playing plenty of pranks on his fellow celebrities as he also pledges not to rule out finding love under the jungle stars.
The rising soap star, who this year won an award for Best Screen Partnership at The British Soap Awards, is also relishing the chance to show viewers the real him rather than his character, Prince McQueen, whom he has played for two years.
Malique confirms he has been given time off by 'Hollyoaks' bosses to take part on this year's 'I'm A Celebrity' and he will return to the soap afterwards.
"Everything is starting to seem real now and I can't wait," he said. "When they asked me if I would like to go on 'I'm A Celebrity', it did take me by surprise. I am a huge fan of the programme and I didn't expect at the beginning of this year to be asked! It's going to be brilliant."

REVEALED: Our 2018 Campmates! ⭐

The Jungle fun begins Sunday at 9pm on @itv and @wearestv. #ImACeleb pic.twitter.com/7dj9YgHoj9

— I'm A Celebrity... (@imacelebrity) November 12, 2018