A fresh batch of bakers will be entering that sweltering 'Bake Off' tent in a week's time. Here's who will be keeping us entertained for the next few weeks of the reality series.
It's the middle of September - how did that happen? With the arrival of the autumn, you know it won't be long until Channel 4's yearly baking competition hits our screens. This year's series will see 12 more 'Bake Off' contestants enter the dreaded tent, with one of them emerging in ten weeks time as the victor.
Last year's winner of the series was young Scottish amateur baker, Peter Sawkins. Let's see who could be taking over the crown for the 12th edition of the show.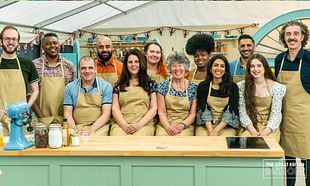 First up, we have Amanda. Aged 56, she was raised in London has Greek-Cypriot heritage, and loves to start her day with an outdoor swim - the colder, the better apparently.
Next is Chigs, a 40-year-old from Leicestershire who only got into baking last year during lockdown. When not baking, he loves to do activities like bouldering, skydiving and trekking.
Then there's also Crystelle, a 26-year-old choir singer from London. A duaghter to Kenyan born, Portuguese-Goan parents, she loves fusing spices from the places she's visited into her bakes.
Next is the youngest baker of the series, Freya. Aged 19 and from North Yorkshire, she is currently studying for a psychology degree, and her speciality is baking plant-based creations.
George is a 34-year-old Greek-Cypriot from London. Married to his childhood sweetheart, his family loves to learn about his unique baking ways when they're not looking after all of their animals at home.
Originally from Italy, 45-year-old Giuseppe now lives in Bristol with his wife and their three young sons. His love for baking comes from his father who was a professional chef, and he considers himself a self-confessed food snob.
Up next is Jairzeno, who is 51 and originally from Trinidad. He loves to create different flavour combinations in his baking, and likes to keep fit by running the odd marathon every now and again.
56-year-old Jürgen is one of our next 'Bake Off' contestants. Hailing from Germany, he moved to the UK in 2003 and his favourite thing to bake is German bread. He's also a mighty good trombonist.
Lizzie is up next, a 28-year-old car production operative from Liverpool. She and her partner live with their dog, Prudence, in an annex in her parents' garden, and she's a fan of killing it on the dance floor.
The oldest of this year's 'Bake Off' contestants is 70-year-old Maggie. A retired midwife, Maggie loves the outdoors and you can often find her heading for adventure in her campervan for some canoeing, kayaking or sailing.
Rochica is a 27-year-old Birmingham native. With a big Jamaican family on both sides, Rochica bakes in a way that reflects her Caribbean heritage - with flavour, passion and love.
Finally, we have 28-year-old Tom from Kent. A keen baker of everything from pies and quiches to bread, in his spare time he's into amateur dramatics, singing and running.
Join hosts Noel Fielding, Matt Lucas and judges Paul Hollywood and Prue Leith for the 2021 series of 'The Great British Bake Off' next Tuesday, September 21 at 8 pm on Channel 4.