In a blog post this week, 'Game of Thrones' author George R. R. Martin confirmed the leaks of a Jon Snow spinoff and its working title.
"Yes, there is a Jon Snow show in development," wrote the 73-year-old in his blog. "Our working title for the show is SNOW."
"Yes, it was Kit Harrington who brought the idea to us. I cannot tell you the names of the writers/showrunners, since that has not been cleared for release yet… but Kit brought them in too, his own team, and they are terrific."
The author of the original book series also confirmed that he is involved in the upcoming show. "Kit's team have visited me here in Santa Fe and worked with me and my own team of brilliant, talented writer/consultants to hammer out the show."
Earlier this week, Emilia Clarke, who played Daenerys Targaryen on 'Game of Thrones' also confirmed the news of the show. She told BBC, "I know it exists. It's happening." She did, however, admit that she won't be appearing. "No, I think I'm done."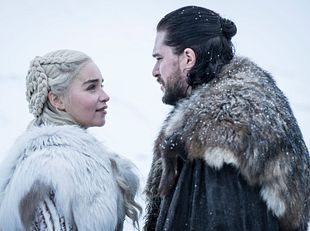 Martin also discussed the other 'Game of Thrones' spinoff series in development. They include '10,000 Ships', 'Tales of Dunk and Egg' and 'Nine Voyages'.
"All four of these successor shows are still in the script stage. Outlines and treatments have been written and approved, scripts have been written, notes have been given, second and third drafts have been written. So far, that's all. This is the way television works."
He did however warn that none of the shows have officially been green lit, meaning there's no guarantee that all of them will make it to the screen.
Within the blog post, Martin also gave a brief update on 'The Winds of Winter', the sixth instalment of his epic 'A Song of Ice and Fire' book series. Much has been said about the release date of the novel and fans have criticised the author for the time taking to release the book.
"Yes, WINDS OF WINTER. No, have not forgotten. I was back with Tyrion this past week."
We carry on waiting, so.
The upcoming 'Game of Thrones' spinoff 'House of the Dragon' releases on Sky on August 22.