Two former stars will be making their return to the sci-fi series next year.
It's been quite the information overload for fans of the BBC series these past few days, and now we've got confirmation that David Tennant will return to 'Doctor Who' too. The former Time Lord is also bringing his trusty companion Donna Noble, played by Catherine Tate, along for the ride for next year's big anniversary.
Tennant played the tenth incarnation of the infamous Doctor for three seasons and nine special episodes during his run from 2005 - 2010. In his last ever episode, the fan-favourite famously said "I don't want to go…", and now it appears he's finally living up to his word 13 years later.
The return of David Tennant and Catherine Tate to 'Doctor Who' is all in line with the sci-fi series' 60-anniversary celebrations which will be kicking off next year. According to the BBC, the pair are already filming their special appearances. However, it's not yet known how involved the pair will be in the next series.
"The Doctor and Donna parted ways when the Doctor had to wipe Donna's memory, making her forget him, in order to save her life," the BBC said in a press release. "He left her family with a warning: if ever she remembers, she will die. But with the two coming face to face once more, the big question is, just what brings the Doctor and Donna back together?"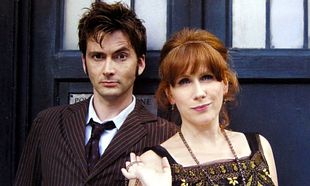 Showrunner Russell T. Davies said of the pair returning to screens: "They're back! And it looks impossible - first, we announce a new Doctor, and then an old Doctor, along with the wonderful Donna, what on earth is happening?
"Maybe this is a missing story. Or a parallel world. Or a dream, or a trick, or a flashback. The only thing I can confirm is that it's going to be spectacular, as two of our greatest stars reunite for the battle of a lifetime."
Just last week it was announced that 'Sex Education' star Ncuti Gatwa would replace Jodie Whittaker as the fourteenth iteration of the Time Lord. The 29-year-old had been sitting on the news since the beginning of this year, admitting it's been an "emotional" journey for him as he takes the lead in the franchise.