Director Danny Boyle's fondness for music has been well-documented from 'Trainspotting' all the way up to his Beatles comedy 'Yesterday' and now the auteur is tackling one of music's most influential acts.
'Pistol', which details the legendary punk group The Sex Pistols, will debut on Disney+ in Ireland and the UK on May 31st.
The show uses guitarist Steve Jones' 2017 book 'Lonely Boy: Tales from a Sex Pistol' as the basis from the show.
An official logline for the show reads "The furious, raging storm at the centre of the revolution are the Sex Pistols – and at the centre of this series is Sex Pistols' founding member and guitarist, Steve Jones"
"Jones' hilarious, emotional and at times heartbreaking journey guides us through a kaleidoscopic telling of three of the most epic, chaotic and mucus-spattered years in the history of music."
The series will tell "the story of a band of spotty, noisy, working-class kids with "no future," who shook the boring, corrupt Establishment to its core, threatened to bring down the government and changed music and culture forever."
Aussie actor Toby Wallace will play the role of Steve Jones.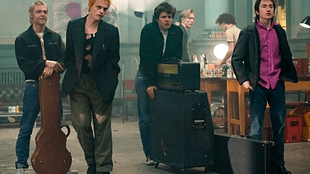 The show has had a long run to the small screen, with Sex Pistols member John Lydon particularly vocal about the series' perceived inaccuracies.
Lydon told The Sunday Times in the UK in 2021 "Sorry, you think you can do this, like walk all over me – it isn't going to happen... not without a huge, enormous f**ing fight."
"I'm Johnny, you know, and when you interfere with my business you're going to get the bitter end of my business as a result".
"It's a disgrace", he added.
"I fronted this band. I'm the man that wrote the words. I supplied the image and direction, and I think the questions hang on their actions here. If they needed to be this secret squirrel about it then they must have something to hide".
For his part, 'Pistol' represents Boyle continuing his steady work in the world of television; the Oscar-winning director started out as a producer for the BBC's Northern Ireland department.
More recently, Boyle directed the 2018 series 'Trust', which told the story of the abduction of tycoon heir John Paul Getty III.