Most millennials will have watched or at least know of the popular show 'Arthur'. For many it was a staple of their childhood television shows.
But all things must come to an end. After 25 years, the long-running show has packed it in, airing its finale last Sunday.
It didn't keep us guessing either, the last episode showed us a glimpse of the kids all grown up with a flash forward twenty years.
It features Arthur the aardvark sitting at a booth in the Sugar Bowl parlour, now run by his friend George Lundgren, and he's ready to show his graphic novel to his friends.
Many other characters from the show turn up such as Buster Baxter, who is now a school teacher. Francine Frensky runs her own sneaker company, Muffy Crosswire is running for mayor, and Arthur's sister D.W. is a traffic cop. We also see on the parlour's television that Binky Barnes has grown up to be a local weatherman.
In a nod to the very first episode "Arthur's Eyes; Francine's Bad Hair Day," Arthur begins to read from his novel with the line "Chapter 1, How I got my very first pair of glasses."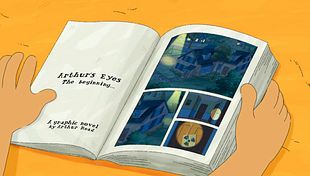 The show is based on a book series called 'Arthur Adventure' by Marc Brown. The author said of the show, "It's amazing that what began as a simple bedtime story for my son eventually evolved into over a hundred books and a collaboration with GBH and PBS Kids that would last 25 years."
'Arthur' will continue to live on through podcasts, digital shorts and old episodes on the PBS Kids YouTube channel. It will be remembered as a show which inspired the belief to be yourself around others and to be kind to one another.
And, even if you didn't watch it growing up, the least we can take from it is the infamous "clenched fist" meme.