There's going to be absolutely zero Kat in the next season, and we're a little upset if we're being honest.
Barbie Ferreira has taken to Instagram to share some unfortunate 'Euphoria' news - she's not going to be back for season three.
Barbie, who has played sugar baby Kat in the first two seasons of the hit HBO show, uploaded a fan's artwork which was sent to her and featured the fan-favourite 'Euphoria' character making money from her bedroom.
The star wrote: "after four years of getting to embody the most special and enigmatic character kat, I'm having to say a very teary eyed goodbye. i hope many of you could see yourself in her like i did and that she brought you joy to see her journey into the character she is today. i put all my care and love into her and i hope you guys could feel it. love you katherine hernandez"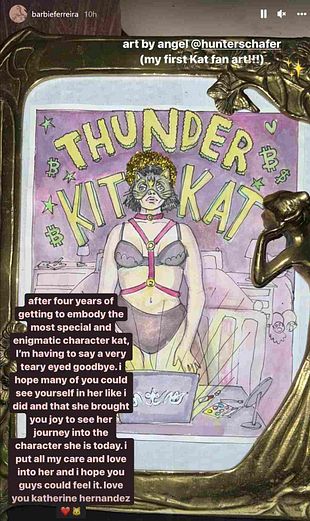 It didn't go unnoticed by fans of the Zendaya-led drama that season two featured exceptionally less Kat than the first season, so much so that she became more of a background character than anything.
In season one, the character turned over a new leaf, finding her voice while simultaneously struggling with her new identity, which involved her making money from horny men online.
Here's how some fans of the show have felt about the Barbie Ferreira departure from 'Euphoria'.
Rumours online suggested that the teen drama, helmed by Sam Levinson, is believed to have suffered from its own behind-the-scenes drama. Long working hours on set, background actors not being able to go to the toilet and not being provided with meals were some of the complaints according to a story published in The Daily Beast back in March. However, Barbie had followed up by saying that the rumours were "untrue".
The HBO production, which is executive produced and stars Zendaya as troubled teen Rue, will be back for season three in the future. All of the actors in the show are slowly rising to Hollywood fame (including two-time Emmy-nominated Sydney Sweeney), so it will be interesting to see who else on the cast list might not return for the show's next instalment.