If you're reading this, chances are you stuck out the entirety of the season; you sat through gritted teeth as Miranda asked for a divorce from Steve (#JusticeForSteve); you grimaced when Carrie threw up in the street at the end of her date with Peter; and you definitely rolled your eyes to the high heavens anytime Che was on screen. If you didn't watch any of this unfolding, then good for you, you saved yourself five mediocre hours.
Last night, while sitting down to watch the 'And Just Like That...' ending, I couldn't but feel a little excited. Not that the episode had popped into my head all day or anything, but it meant that we're finally going to see the back of these characters.
Apologies to any die-hard 'Sex And The City' fans out there who got a kick out of watching this, but you're very much in the minority. Without a shadow of a doubt the series was a runaway success for HBO Max; the reviews, however, speak for themselves - middle of the road.
It was passable drama. If this were a fresh out of the box dramedy about three women in their '50s living in New York City all with various levels of baggage, clinging onto their friend in London, constantly looking at the far more interesting secondary characters for advice (just please, not Che) - this would have been cancelled after a couple of episodes. But because everyone knows these characters, relates to at least one of them in some way, wants to see what they're up to 20 years later, we became invested. And it looks like a second season might be in the pipeline.
'And Just Like That...' was missing something. The glaringly obvious answer to this is Kim Cattrall's Samantha. But even if Samantha made a return, even if she appeared for a split second on that bridge in Paris in the final moments of the season, it doesn't forgive the sub-par writing and the out-of-character storylines.
Sarah Jessica Parker's Carrie only narrated the final moments of all ten episodes. Carrie's narration during 'Sex And The City' was always one of the highlights - so why not bring it back? Michael Patrick King, director, writer and executive producer on both series, said to Variety that he "always knew" Carrie wouldn't do a voiceover for 'And Just Like That...'. He said that in 'SATC', the voiceover would "lighten" a situation and "make the audience feel taken care of". King has got a hole in one with this remark - we weren't taken care of.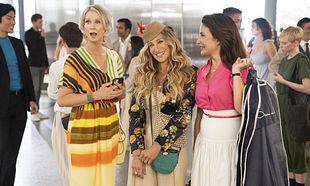 Instead, what the audience was delivered were a series of episodes that steered our beloved characters in a direction we never thought possible, especially when it came to one character in particular: Charlotte (Kristin Davis) whipping out her husband's penis with the bathroom door wipe open? Sure; Carrie grieving for a man who she's been having an on/off relationship with since episode one of 'SATC'? Absolutely; But Miranda (Cynthia Nixon) becoming this unrecognisable entity, eternally seeking happiness and sucking everyounce of fun out of the series, all at the same time? This is where we draw the line.
Miranda and Che (Sara Ramirez) are not the LGBTQ+ representation that the series needed. Che is far too woke to be likeable and Miranda, as she says herself in the season finale, is choosing "love" over her pursuing her career dreams. Even Carrie and Charlotte, who eventually come around to supporting their friend, are taken aback by her 360 in the finale. Sure, love makes us too stupid things, but Miranda doing this? Never in a million years would it happen. Miranda was always the one who got shit done; she was one of the original girl bosses. This season has turned her into someone who is both much older than her character is, yet also much younger; she's taking risks like a teenager yet she's making comments with racial microaggressions that you would correct your grandmother for saying.
If 'And Just Like That...' thought us anything, it's that we should leave the cherished memories that we have with our favourite TV and movie characters well alone. Disrupting our images of them just never lives up to the hype. No matter what happened in this season, we'd have come out of this feeling at least a little disappointed. Instead, we were robbed of five hours of our lives - and potentially five more on the horizon should season two comes knocking.