Brought to you by:
While we all love a good drama to sink our teeth into, what about watching people sinking their actual teeth into some delicious food? Huh? Yeah okay, a lame analogy but we all know a good foodie series is far less traumatic than whatever the latest true-crime series on offer is.
These days on Netflix you can choose between anything from a competitive series to a fascinating documentary. Below are our favourites currently available to watch on the streaming service.
1. Street Food
From the creators of 'Chef's Table', 'Street Food' brings viewers to some of the world's most vibrant cities, where the rich culture of street food is explored. Season one focuses on Asia, where eating and drinking outside is a huge part of the culture.  Each episode features one destination: Thailand, India, Taiwan, Japan, South Korea, Singapore, Indonesia, the Philippines and Vietnam. A visually stunning series that gives you a real insight into not only the world of street food in Asia but also the people that are behind it.
2. Ugly Delicious
Award-winning chef David Chang travels around the world exploring the culinary hot spots and investigating the history of famous foods. Each episode highlights one dish or concept and explores how it is made in different regions and how it evolves. Throughout the series, he is joined by other chefs as well as some famous faces including TV host Jimmy Kimmel and comic Nick Kroll. The first episode is about pizza, looking at how it evolved from the original Neopolitan version the Italians make to what is served in America. We would highly recommend watching this one with a pizza however as the cravings will be strong.
3. Taco Chronicles
We all love a good taco and any food connoisseur worth their salt knows there is far more to the humble taco than the Old El Paso dinner kits you get at Tesco. This docuseries is a love letter to tacos that looks at the history of some of the food's most popular styles: pastor, carnitas, canasta (basket tacos), carne asada, barbacoa, and guisado (stews).  A guy was even hired as a 'Taco Scout' to find the best ones in Mexico for this series. Some people have all the luck.
We should probably mention this series is all in Spanish, but you can handle a few subtitles, we just know you can.
4. Cooked
"We all have powerful memories of being cooked for. That act of generosity and love I think is still in there for most of us and is very powerful," says Michael Pollan, host of Netflix series 'Cooked' from Academy Award-winning filmmaker Alex Gibney. This show goes back to basics looking at how and why we cook and how essential it is for our well being and happiness. Each episode focuses on a different natural element and its relationship to both ancient and modern cooking methods. It will seriously make you appreciate cooking and its ability to connect us on a whole new level.
5. The Great British Bake Off
Well after all that tasty grub you will be needing your dessert, won't you? The current season of 'The Great British Bake Off' is going down a storm on Channel 4 at the moment but if you fancy a proper Bake Off binge, then the first seven seasons are available on Netflix. These are from back in the good old days of Mel and Sue, and of course Mary Berry. Well, we say good old days but we honestly don't think we could love Noel and Sandi as hosts anymore than we already do. Still, nice to take a trip down memory lane.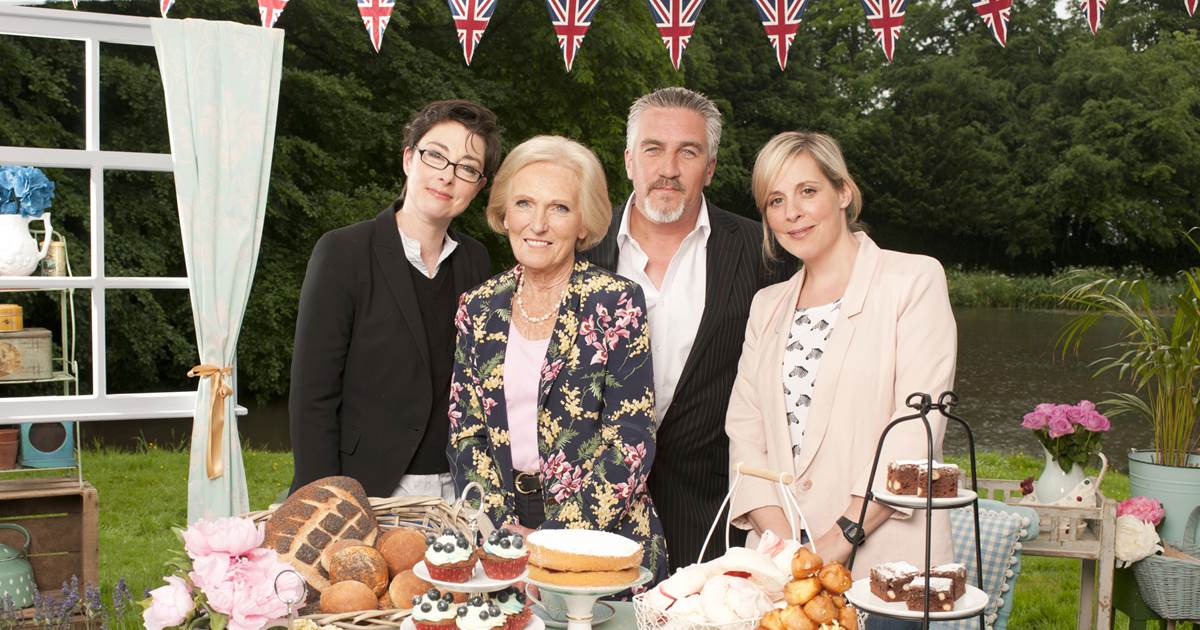 The only problem with watching a good food show is that it leaves you ravenous. If you fancy munching into some delicious food while you're watching all of the above, Deliveroo has whatever you want, where you want it, when you want it.