The Change.org petition, simply named 'Keep James Corden out of Wicked the movie' is closing in on 35,000 signatures.
The petition's description is clear and succinct in its demands: "James Corden in no way shape or form should be in or near the production of Wicked the movie... That's pretty much it."
The former 'Gavin and Stacey' star, who now seems to be the most hated host on American television, has been getting flack for his recent appearances in musicals-turned-films. 'Cats' 'The Prom' and 'Into the Woods' were all subjected to Corden roles.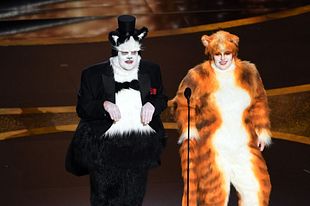 Most recently, he featured in Prime TV's version of 'Cinderella'. For what seemed like promotional duties for the film, he was recorded blocking traffic while dressed as a rodent. He then proceeded to thrust provocatively at cars to Jennifer Lopez's 'Let's Get Loud'. Surprisingly, it did not go down well.
Hype around the 'Wicked' movie has recently started to heat up as Ariana Grande and Cynthia Erivo were cast in the lead roles last week.
Now, excitement has turned to sheer panic as fears of Corden's possible inclusion have started to boil over. It seems no musical is safe from 'The Late Late Show' host's grip.
It must be clear, however, that Corden has NOT been cast in Wicked. This petition is simply a preventative measure against his seemingly inevitable inclusion.
As the saying goes, better safe than sorry.