Tom Cruise chose to accept the mission of giving the England soccer team a boost ahead of the Euro 2020 Final against Italy yesterday.
Tom Cruise is currently in the UK filming the seventh installment of the 'Mission:Impossible' franchse.
The England team's captain Harry Kane told BBC Radio 5Live (per NME) that the players received an outpour of support.
He said: "Obviously we have had ex-players and people get in touch.
"We actually had Tom Cruise get in touch yesterday evening, you get everyone who loves football.
"The majority of people in the world love football, so it's great to have all that support not just in England but across the world, so it's been a great time for all of us.
"We've enjoyed every moment of it so we're just looking forward to hopefully finishing the job."
Kane added that the team got treated to a screening of the next Tom Cruise blockbuster, 'Top Gun: Maverick', last weekend so it was all very in theme.
He noted: "Yes, we were fortunate enough to have a watch of one of his films, so I think he was over here in the UK and he just dialled in and FaceTimed us just to wish us the best as a group, so that was nice of him.
"I'm not sure if he will be there at the final or not, but football is such a big part of the world, and it's nice to have that support from all different types of businesses I guess."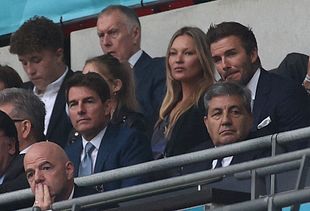 Tom Cruise was spotted in in the stands at Wembley Stadium in London, where the Euro 2020 final was held yesterday, sitting near football legend David Beckham and model Kate Moss.