Over the past few months, the residents of Canon Mooney Gardens in Ringsend, Dublin, have been inspiring their community with weekly activities to lift spirits in the flat complex, including Bingo, social distance dancing, movie nights and more.
Their efforts have caught the attention of a famous face, former Liverpool legend and Sky Sports analyst Jamie Carragher, who has recorded a special video message for the community and in particular, calling out eleven-year-old Liverpool Superfan Seán McCabe. 
Sean, who has a rare condition, is Liverpool superstar Mo Salah's biggest fan and is always the life and soul of the weekly activities, regularly belting out his favourite Liverpool anthem; You'll Never Walk Alone.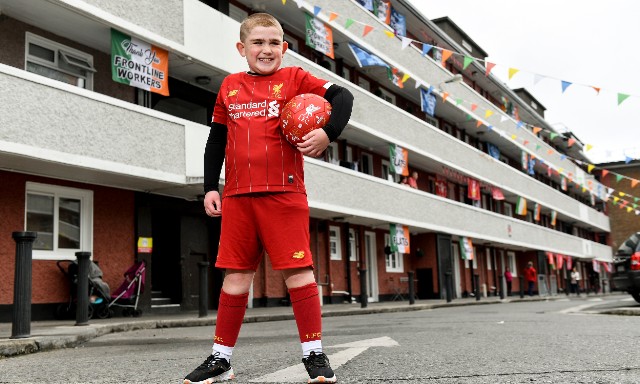 Speaking in a special video message to Sean and the residents, Jamie Carragher said:
"Hi Seán, a little birdie tells me you're a HUGE Liverpool fan so I just want to send you a message (and Seán Senior, your dad!) and everyone at Canon Mooney Gardens, for the community spirit you're showing and the inspiration you're showing to everyone around that area. 
"Now I know you are both huge Liverpool fans and I'm delighted that NOW TV have given you a Pass so that you can watch all the games and you're gonna watch Liverpool win the title. And I'm telling you Seán, it's a formality! Because you and every Liverpool supporter have waited that long and what you've given (as I said) in Canon Mooney Gardens, is absolutely superb! So they're gonna pay you back and you're gonna see Liverpool win the title on Sky Sports."
It was a welcome surprise for Seán and the flat residents who were shown the message ahead of their weekly movie night organised by local resident Michael Larkin.  
To celebrate the return of football and reward the Ringsend locals for their enduring community spirit, streaming service NOW TV organised the special video message to residents from Sky Sports analyst Jamie Carragher and has also gifted all residents of Canon Mooney Gardens with NOW TV Sky Sports Passes so that they can watch the returning football games, including Liverpool's return clash against Everton this Sunday. 
Michael Forry, Head of NOW TV, said: "All throughout the lockdown, the residents of Canon Mooney Gardens have been running weekly events in their community, epitomising what it means to stay together whilst having to stay apart, and inspiring others along the way, so this is just a small way for us to show our appreciation."
Premier League action returns with a double-header on 17 June and all the action is available to stream on NOW TV. To purchase a day, week or one-month Sky Sports Pass, visit NOW TV.