Language barriers can be awkward at the best of times. When you're speaking the same language, the result is even funnier, as seen in this AFL interview.
Morgan, the American media coordinator for the North Melbourne Football Club, recently had an interview with two young Irish fellas who left her baffled.
One of them, Red Óg Murphy, is a teenage Gaelic footballer from Sligo who signed a Category B rookie contract with AFL team North Melbourne recently.
The other is his fellow Irish trialist Oisin McWilliams.
The interview commences with Morgan mispronouncing Red Óg and Oisin's names.
From there, as they discuss their training, neither the interviewer nor the subtitle writer seem to understand the boys.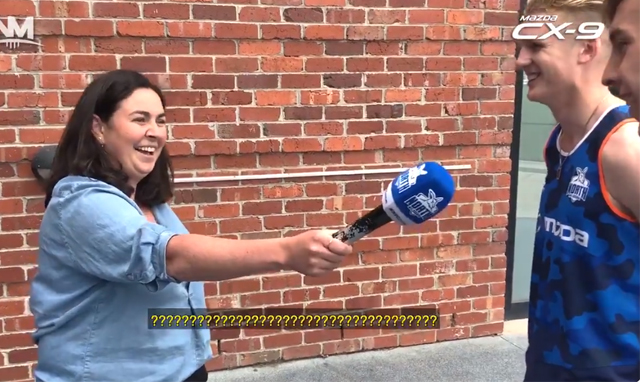 The reverse is clearly as bad, because Oisin comments: "I don't understand what you're saying."
The footballers describe the differences between AFL and Gaelic football.
Again, the subtitler gives up translating what they're saying halfway through.
Watch the gas interview below:
Although they (apparently) were speaking the same language, it's fair to say there was a bit of a language barrier when our American media coordinator, Morgan spoke to new signing, Red Óg Murphy and fellow Irish trialist Oisin McWilliams 😂#BeAShinboner pic.twitter.com/SiW5pPPbot

— North Melbourne (@NMFCOfficial) October 30, 2018