There's no greater way to embarrass yourself as a sportsperson than to injure yourself while celebrating.
That said, injuring yourself while trying to imitate someone else's celebration while also losing heavily may add another dimension of shame to the whole thing, and for Chicago Bears defensive end Lamarr Houston, that's exactly what happened.
While the Patriots were giving the Bears a good old fashioned whoopin' this weekend (the game ended 51-23), Houston managed to sack quarterback Tom Brady, and decided to celebrate in the style of the Portuguese footballer who has been in free-scoring form this season so far. It did not end well, and he tore his ACL which will see him miss the rest of the season. What's worse is that he's not alone on that front, as Detroit Lions linebacker Stephen Tulloch did the same thing, with the same celebration back in September against the Green bay Packers.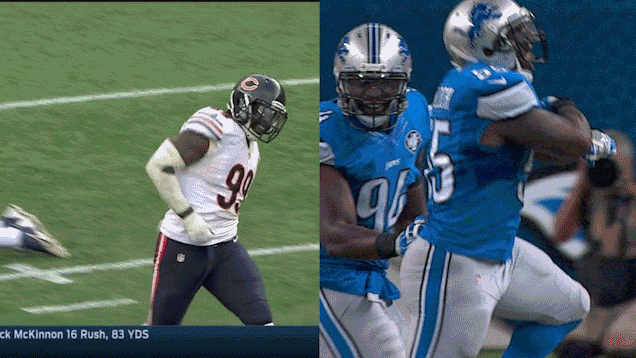 Either they need to start training players to perform this celebration properly, or they need to tell them to stop doing it and leave it to Ronaldo.
Via Sportskeeda