Jane Campion has having none of it over the weekend at the Director Guild of America Awards.
The New Zealand director responded to comments made by actor Sam Elliot on the Marc Maron podcast recently. The controversial comments made towards her 12-time Oscar nominated film 'The Power of the Dog' were labelled "misogynistic" and "homophobic".
"I'm sorry, he was being a little bit of a b-i-t-c-h, and, I'm sorry to say it, he's not a cowboy, he's an actor," Campion said on the red carpet, before she took home the prize for Outstanding Directorial Achievement.
"The West is a myth exposed. There's a lot of room on the range. I think it's a little bit sexist. Because you think about the number of amazing westerns that were made in Spain by Sergio Leone. I consider myself a creator and I think he sees me a woman or something lesser first. I don't appreciate that."
Speaking to Marc Maron a few weeks ago, Elliot ranted about the film, complaining about the "allusions of homosexuality" throughout. He also likened the main characters played by Benedict Cumberbatch and Codi Smit-McPhee to Chippendale dancers "running around in chaps and no shirts."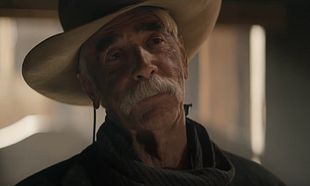 The 77-year-old went on to say, "what the fuck does this woman from down there, New Zealand, know about the American West? And why in the fuck does she shoot this movie in New Zealand and call it Montana and say, 'This is the way it was?' So that fuckin' rubbed me the wrong way, pal."
'The Power of the Dog' has recieved critical acclaim since its release on Netflix late last year. As well as its many Oscar nominations it has also won the Golden Globe for Best Motion Picture - Drama. Campion became the first woman to receive more than one Academy Award nomination for Best Director, her first being for 'The Piano'.