Margaret is like every Irish mammy out there - not wanting to take up anyone's time.
It was a bumper weekend for 'Halloween' fans, as the scream queen icon of the franchise, Jamie Lee Curtis, appeared on both 'The Late Late Show' with Ryan Tubridy and on 'The Graham Norton Show' with Graham.
During her downtime on Saturday, however, following her Irish late-night appearance, the Hollywood star went for a walk around the capital and likely went for a quick look around the shops as she was spotted at the top of Grafton Street hanging around a poster of her new film.
Pausing beside a 'Halloween Ends' poster, Jamie Lee Curtis managed to wrangle an Irish mammy named Margaret McNamara into her video, and she was in her absolute element as she chats away to the horror icon.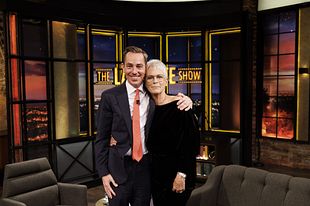 Curtis starts off the video by introducing herself, adding that she's found a new friend in Ireland. Margaret, who seems a bit starstruck once the camera is on her, only manages to say a string of buzz words such as "Halloween", "wonderful", "congratulations" and "Late Late Show" before redeeming herself and chatting away to the A-lister.
Margaret then plays the Irish mammy card, adding: "Thank you - don't want to be taking up your time now, you're a busy person." And sure Margaret probably has about 10 different things to do before heading home.
Here's the hilarious video, which was shared on Twitter by Caolán Mc Aree, and truly is the best marketing for a film we've seen in a long time.
Before meeting her new Irish mammy friend, Jamie Lee Curtis nearly refused to leave the RTÉ studio in Donnybrook on Friday evening after her chat with Ryan Tubridy. During the interview, she chatted about her major horror franchise coming to an end after 45 years in pop culture, and also the wholesomeness of both of her children getting married in the back garden of their home house. Watch the episode on catch-up via the RTÉ Player.
'Halloween Ends' hits cinemas on October 14.