Ryan Reynolds has offered a response to comments from Gerard Butler about his latest feature, 'Free Guy', and his other movies.
The latest from Gerard Butler, 'Copshop', is in cinemas now.
Earlier this month, the '300' star gave an interview to Unilad promoting it, and he included some scathing comments about Ryan Reynolds' work.
The actor commented "I actually don't know what 'Free Guy' is", regarding the latest movie from Reynolds in which he plays a NPC character in a video game.
Gerard Butler added "I don't watch Ryan Reynolds movies" and the story was shared by People among other outlets.
Luckily, we know Reynolds always has a good sense of humour about these things.
Moreover, he's forever the effective opportunist.
The actor shared a screenshot about Gerard Butler's remarks on Instagram and wrote: "Can you believe Gerard Butler doesn't know what Free Guy is?
"Also, can you believe that the challenges to democracy have never been greater and that Blake and I will match your contributions to the @aclu_nationwide and @naacp_ldf?"
He added in an asterick: "*Order of these questions optimized for the Internet, NOT importance."
The Instagram post also included a screenshot from Ryan's Twitter detailing how he and his wife Blake Lively will be "matching all gifts up to $1,000,000 split between LDF and @ACLU through October 8."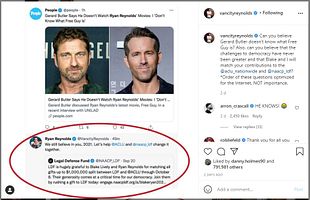 Now that is one classy way to spin a diss.