Some familiar faces came together in Banbridge, Co. Down to mark the opening of the new 'Game of Thrones' studio tour at Linen Mill Studios. Many scenes were filmed there throughout the series.
Among the cast present were Kristian Nairn (Hodor), Nathalie Emmanuel (Missandei) and Isaac Hempstead-Wright (Bran Stark). The actors welcomed fans into the new experience, which allowed them to dive back into the world of Westeros.
Emmanuel posted pictures of the day on her Instagram, also citing that she narrates the tour itself.
"The @gotstudiotour is open!" Emmanuel wrote. "It. is. EPIC! And it is in one of the actual studios we filmed in!! Also I am very proud to have narrated the tour. A trip down memory lane of one of the most special chapters of my life… and to reunite with @kristiannairn, @isaachwright and some of our wonderful crew who's genius made it all possible!"
Nairn also wrote on his Instagram, "It was so lovely to see some familiar faces again, lots of you amazing GoT fans, and so many memories from filming! If you're a fan of all things Westeros then it's well worth a visit."
Other members of the show's cast reunited at the preview tour a few days beforehand. They included Daniel Portman (Podrick Payne), Ian Beattie (Ser Meryn Trant), Natalia Tena (Osha) and Ian McElhinney (Barristan Selmy).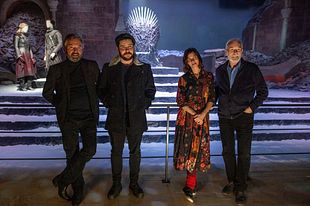 Inside the tour, fans can experience the weaponry, props (including the Iron Throne) and costumes of the series. Twelve of the original sets used in the show feature.
Tommy Dunne, the show's master armourer from Wicklow said, "Every one of the weapons, the swords, arrows, spears and shields was actually used during the filming of Game of Thrones."
"It's fantastic to see them all here on display for the public to see and showing my work and my team's work. A lot of work, a lot of blood, sweat and tears has gone into it."
If you want to visit the experience, organisers advise visitors to allow up to three hours for the tour. Tickets must be booked in advance as there is a limit on the number of slots.
Regular shuttle buses to the studios operate from the Boulevard shopping complex in Banbridge, the Europa Bus Centre in Belfast, and there are Busaras services from Store Street Bus Station in Dublin.
For more information head to gameofthronesstudiotour.com.