Back in 2003 and 2004, the Nickelodeon Kid's Choice Awards had a very special category: the award for the best onscreen fart. So gas.
The Nickelodeon's Kid's Choice Awards were on last night with the usual categories — favourite female and male artists respectively, favourite album, favourite music group, and so on.
But as time has gone on, the categories have lost some of their childlike humour and panache. In particular, we find ourselves mourning the "Favourite fart in a movie" award whereby there were only ever two winners — 'Scooby Doo' and 'Kangaroo Jack'.
Some of the nominees between 2003 and 2004 were 'Master of Disguise', 'Austin Powers and Gold Member', 'The Crocodile Hunter: The Collision Course', 'Daddy Day Care' and 'Finding Nemo'.
Some viewers felt strongly that 'Finding Nemo' was robbed back in 2004. Looking back at the video, maybe it was, to be honest. And a question that begs to be asked: how was 'Shrek' not a nominee?
What's even madder is that Joe Rogan presented the category back in 2004 and Anthony Anderson received the award on the back of a camel. But unfortunately, 2004 was the last time we were gifted with a fart champion.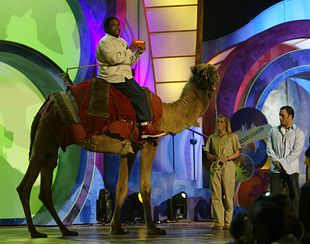 However, in 2011, seven years later, there was a similar category invented — Arm Fart Champion. Josh Duhamel was crowned the winner before getting covered in slime.
What are some of your favourite fart scenes?