The Bernard Shaw opened today in its new location but already they have offended the neighbours.
The much-loved Portobello establishment made big news a couple of months back when it announced it was forced to close its doors after 13 years. However, good news quickly followed that it would be moving to a new establishment on the north side of the capital in Drumcondra.
Flash forward to today, when a controversial Instagram post, which has since been removed, has received huge backlash online.
One event has even been cancelled due to the post which is being called "classist".
Here's the post: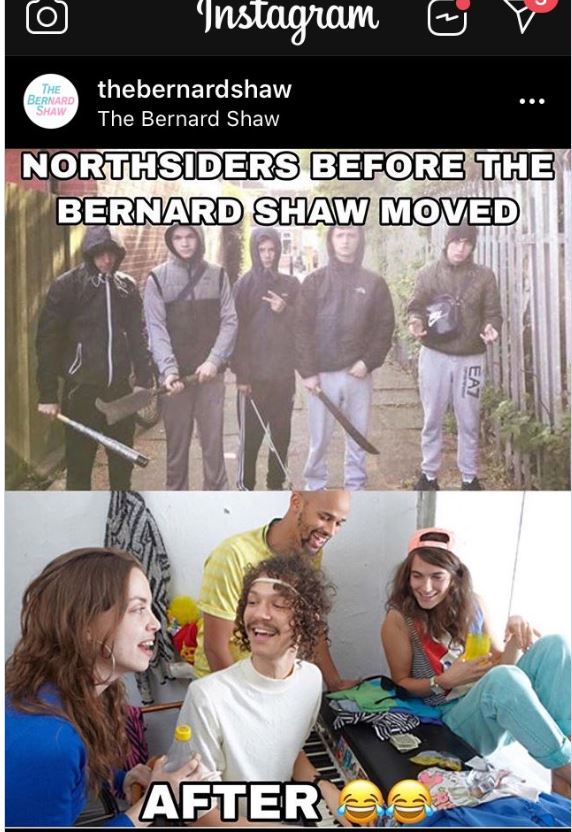 And here's some of the reaction:
Is this for fucking real pic.twitter.com/9ldi2wdBCM

— Cathy (@FathyClynn) November 15, 2019
We've been left with no choice but to cancel our event - "Where Art Goes"- which was supposed to take place in The Bernard Shaw tomorrow evening.
Our statement is below: pic.twitter.com/Iv6LyLm8wa

— She Networks (@SheNetworksPR) November 15, 2019
The follow up to that Bernard Shaw post pic.twitter.com/pvAmskTwln

— Daithi (@daithigor) November 15, 2019
Fuck Bodytonic and the Bernard Shaw and the rest of their petit bourgeois empire profiting from fooling people that €6 pints is culture. Classist capitalists who profit from gentrification and hipsterisation of working class communities. We need to always ask "culture for who". https://t.co/XdVx4n5iQv

— Jen Doh (@JennyJeffer) November 15, 2019
This may come as a massive shock to people, but it's actually possible to be both angry at the conduct of Bernard Shaw online and despairing at how its Sth Richmond St closure is indicative of mass gentrification in the city

— Eva Short✨ (@evadiminutive) November 15, 2019
Forget the Grafton Quarter, we've moved on to Bernard Shaw's Instagram.

— Warren Swords (@warrenswords) November 15, 2019
Sees the Bernard Shaw's IG post pic.twitter.com/YQGtFR8hSF

— Emmet Ryan has a new book (@emmetjryan) November 15, 2019
Can't get over the furore over The Bernard Shaw's pisstake of stereotypes. Folk round here were canonising them a month ago. Now they're apparently fascists. It's proof that you should never pay attention to the Twitter mob. Both praise and criticism are way too cheap on here pic.twitter.com/tHJ93NPieh

— Mark Paul (@MarkPaulTimes) November 15, 2019
Limmy would be proud of this one.
Had the pleasure of meeting The Bernard Shaw at a charity do once. It was surprisingly down to earth, and VERY funny

— Gardai B (@ParamitePies) November 15, 2019