Star of Baz Luhrmann's glittery new biopic 'Elvis' Austin Butler sat down with Jimmy Fallon this week to discuss his lifechanging role.
During the interview, Fallon brought up how Butler managed to nail not one, but all of Elvis Presley's accents, from his rise to fame in the 50's all the way up until his death in the 70's.
"The way he talked in the 50's, the way he talked in 60's and 70's, like three different [versions of] Elvis. And you sang differently," said Fallon.
"There's these amazing archives out there of every interview he ever gave," Butler responded. "And that's the first thing that hit me - that there's not just one voice of Elvis. His voice changed so much over the years."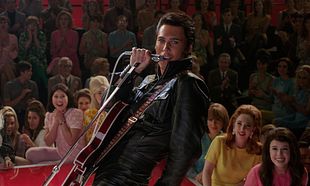 Fallon then prompted Butler to give an example of each. The 30-year-old then proceeded to cycle through the many voices of the superstar, beginning with his early days in 1954, performing on the Louisiana Hayride. Butler describes Elvis as nervous saying that he spoke a lot faster when he was younger.
Butler then switches to 1956 when Elvis was 21 saying, "It's how I feel right now, you're not sleeping at night, you're just buzzing."
"Then, for a juxtaposition, we can fast forward to '72." Butler varies his accent to a more nasally, front-of-face voice, depicting the King of Rock n' Roll's later years.
Butler also went on to talk about his visit to Graceland before shooting the film. He met Priscilla Presley there, where she gave him words of encouragement.
"Looking into her eyes - you realise this is the woman Elvis fell in love with all those years ago. And she still loves him to this day and she's the mother of his only child.
"She said 'you have big shoes to fill' and I said 'I know.' And then she gave me this big hug and said 'you have a lot of support.'"
Watch the full interview below.
'Elvis' is out in Irish cinemas on June 24.