What with it being Father's Day and all, we thought we'd examine the striking phenomenon that afflicts men when they reach past the age of 25 and become fully-fledged men of the world. You'll find yourself appreciating certain aspects of life that, until now, you were reasonably certain your Dad like and nothing else.
Do you find yourself enjoying sandals over socks? Do you appreciate a good moustache? Are you listening to Radio One a lot? Read on...
16. YOU SHOUT AT THE NEWS A LOT MORE THAN YOU USED TO
Look, the world's in rag order and sometimes, shouting at the telly helps to vent your anger. Whereas before, you wouldn't have even bothered to watch the news, you find yourself oddly placated by the sound of Jon Snow and Bryan Dobson. That is, of course, until something comes on about the government. Or taxes being raised. Then it's loud tutting followed by an occasional "They're all f**king crooks, you know that?! CROOKS, I TELL YA."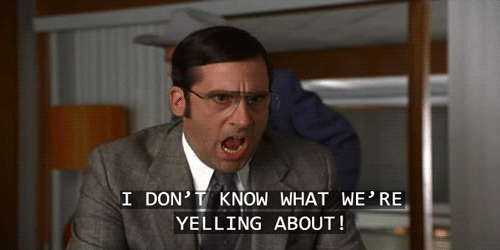 15. YOU APPRECIATE SOFT ROCK A LOT MORE THAN YOU SHOULD FOR SOMEONE YOUR AGE
Kenny Loggins, Lindsey Buckingham and Christopher Cross are pretty great artists. They all rocked solid beards and had that close harmony thing. You also know the lyrics to Michael McDonald's 'I Keep Forgetting' and you prefer this version over Nate Dogg's 'Regulate'.
14. YOU'RE COMFORTABLE WITH PUTTING ON WEIGHT NOW
Look, between working and the car-washing and the occasional nap, becoming a little more husky than you initially considered yourself to be is OK. You can go to the gym, sure, but who has the time? You've got to fix the garden, bring the young lad to the football practice and the other one to dance lessons. Who has the time? Nobody, that's who.
13. YOU IDENTIFY WITH AL BUNDY A LOT MORE THAN YOU'D LIKE TO ADMIT
Sometimes, you just want to come in and watch TV and possibly stick your hands down your pants and zone out. It's comforting. We've no idea why.
12. YOU GET A LARGE PERCENTAGE OF YOUR READING DONE ON THE TOILET
It's a hallowed place. It's quiet. The door's locked and you can finally get a bit of piece and quiet whilst you read Tom Clancy / Phillip K. Dick / Johnny Cash's autobiography / that joke book you got for Christmas.
11. YOU LISTEN TO RADIO ONE / NEWSTALK A LOT MORE
Hey, there's some good shows on there. Plus, you can only listen to that remix of David Guetta's remix so many times before you'd give anything to hear George Hook or Jonathan Bowman talk about history / the fact they're old.
10. YOU MAKE NOISES WHEN YOU BEND OVER OR LIFT SOMETHING UP
Urrrr. Urgh.
9. YOU'LL NEVER SAY NO TO A CUP OF TEA
You won't. You know you won't. In fact...
"Cup of 'cha? Yeah, go on."
8. A CUP OF TEA BEFORE YOU GO TO SLEEP IS THE BEST THING EVER
It really is. Trust us.
7. YOU'VE GOT NOSE HAIRS NOW
It was bound to happen eventually. It's unfortunate, but here we are. With nose hairs.
6. YOU'VE THOUGHT ABOUT BURNING RUBBISH INSTEAD OF DUMPING IT ETHICALLY
Do you have a barrel? Do you have a yard? Have you thought about getting some diesel and burning rubbish? We all have. We can admit it.
5. YOU'RE GETTING BETTER AT PUNS AND SHITTY JOKES AND YOU'VE LEARNED SOME CRAPPY MAGIC TRICKS
Dad jokes are a thing. You're embracing them. It's all about the deadpan delivery.
4. YOU MAKE A BIG POINT OUT OF LIGHTS BEING ON AND WASTING ELECTRICITY
Make sure when you turn off lights that you shout at nobody in particular, "Do you think I'm made of money?!"
3. YOU NO LONGER KNOW WHO'S TOP OF THE CHARTS
At some point, you stopped caring. It happens, deal with it and enjoy your yacht rock. See No.15 for further details.
2. YOU HAVE A TOOLBOX IN THE HOUSE NOW
You don't know how it happened, but it's there. First, it was a hammer because you wanted to hang up something. Then you needed a screwdriver for a thing. Then you need a spirit bubble because the thing you hung up didn't look right. Before you know it, you've got a toolbox. That stuff keeps going missing from.
1. NAPS ARE YOUR FAVOURITE THING
I'm going for a lie-down. Don't wake me.