Andrew Garfield has been on our screens for 17 years since his first role in 'Sugar Rush' and honestly, we even feel tired just by the sound of that. The 'Under the Banner of Heaven' actor tells Variety that he wants to "just be a bit of a person for awhile".
As much as the actor may feel the fatigue of awards season, we will never get tired of him. As one of the more down-to-earth stars, he's had many extraordinary "ordinary" off-screen moments that made us fall in love with him.
1. He got bashful about people fancying him
When he responded to the tweet "I'm a slut for Andrew Garfield" with "That's so generous. I promise I will only be respectful".
2. He had a wee cry on TV
The way that he talks about his mother's life and sheds a few tears is just so honest. We love.
3. He used his platform for good with Emma Stone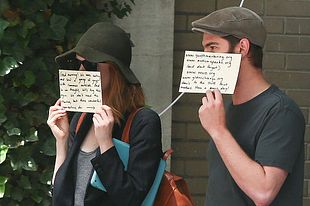 There were a few occasions when Emma Stone and Andrew Garfield armed themselves with signs citing charities to donate to when the paps showed up.
4. And enjoyed Disneyland with her too
Andrew Garfield and Emma Stone were the blueprint for the Pete Davidson and Kim K snap.
5. Had a smooch
6. And another one
7. Worked at Starbucks
He wasn't just born into acting, he actually worked in a normal job before he became a star. Americano with an extra shot, no milk please.
8. He admitted to not feeling like an adult
When he played Spider-man at 28-years-old, he found it super easy to channel young Peter Parker, admitting "I feel incredibly awkward as a human being and incredibly teenaged still".

9. He was on his phone at the Oscars
10. Then emerged telling his friends the goss
We would do the exact same thing.
11. He wore pipe-cleaner glasses to a Gala
12. He's self-deprecating
While checking the most googled queries related to himself, he found "Andrew Garfield long neck" and proceeded to agree that he is a "long neck bastard".
13. He loves 'RuPaul's Drag Race'
We would pay to see him do Meryl Streep for Snatch Game.
Have we missed any of your favorite moments?