search for anything!
e.g. Florence Pugh
or maybe 'Andor'
House of the Dragon
Rings of Power
search for anything!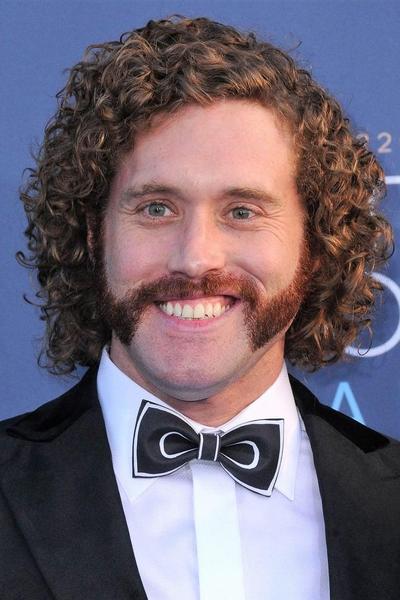 T.J. Miller
Actor | Writer
Todd Joseph "T.J." Miller (born June 4, 1981) is an American actor and stand-up comedian.
After college, Miller moved to Chicago and began to perform improv and stand-up comedy. He toured with The Second City for two years. In 2008, he was named one of Variety's "10 Comics To Watch."
He portrayed Marmaduke Brooker in Carpoolers on ABC (2007–2008).
In 2008, he made his film acting debut in Cloverfield in which he only appeared onscreen for a few minutes, but his voice was heard in almost every scene as the person who videotaped most of the events depicted. In 2009, he played Cessna Jim in The Goods: Live Hard, Sell Hard and the grindcore musician Rory in Mike Judge's comedy Extract. In 2010, he co-starred in She's Out of My League as Stainer, played Brian the Concierge in Get Him to the Greek and had a supporting role in Unstoppable. From 2010 to 2014, he voiced Tuffnut Thorston in the first three How to Train Your Dragon films.
In 2010, he played Ranger Jones in the live-action animated film Yogi Bear, and he also played Dan in Gulliver's Travels. In 2011, he appeared in the film Our Idiot Brother and, in 2012, he had a cameo as administrative personnel for Rolling Stone in the musical film Rock of Ages.
On 12/13/2010, 10/28/2011, and 6/14/2012, he performed stand-up on Conan. On November 15, 2011, his stand-up special No Real Reason premiered on Comedy Central. In 2011, he hosted a special called Mash Up, which was picked up in 2012 for a full season by Comedy Central. He also appeared frequently as a member of the "round table" on Chelsea Lately.
In 2012, he voiced Robbie Valentino on the Disney channel cartoon Gravity Falls. He also voiced Gorburger, a giant blue monster talk show host, on The Gorburger Show, which originally aired on Funny or Die and YouTube for 2 seasons in 2012–13, then on Comedy Central for a 3rd season in 2017. In 2013, he co-starred in the Fox TV series The Goodwin Games as Jimmy Goodwin. In 2014, he was in Transformers: Age of Extinction and he voiced the character of Fred in the superhero CGI film Big Hero 6. He voiced Augie in the 2015 animated film Hell and Back. In 2015, he was part of Funny or Die's Oddball Comedy and Curiosity Festival, a touring show which included Amy Schumer, Aziz Ansari, and other comics.
From 2014 to 2017, he starred as Erlich Bachman in the HBO sitcom Silicon Valley for which he won the Critics' Choice Television Award for Best Supporting Actor in a Comedy Series in 2015. In 2016, he starred in the movie Search Party with Adam Pally and the movie Office Christmas Party.
On June 17, 2017, HBO premiered his hour-long stand-up special, T.J. Miller: Meticulously Ridiculous, which was filmed in Miller's native Denver at the end of his 2016 Meticulously Ridiculous Tour. In October 2017, Miller began his "Touring In Perpetuity Tour", a self described "One Man Philosophy Circus."
In 2018, he played the role of I-R0K in the film Ready Player One, directed by Steven Spielberg. As a commercial actor, he voiced a talking ball of mucus in commercials for Mucinex and starred as Greg the Genie in a promo campaign for Slim Jim meat snacks.
He hosted a podcast with friend and fellow comedian Cash Levy, titled Cashing in With TJ Miller, which began airing in March 2012 on the Nerdist Network. He is also a frequent guest on Doug Benson's podcast Doug Loves Movies.
---