Comedy series 'Black-ish' is arriving on Irish shores for the first time. In anticipation of it hitting Star on Disney+, we caught up with one of the main stars of the series.
The ever-enthusiastic Tracee Ellis Ross ('Girlfriends', 'The High Note') plays the role of Rainbow Johnson in 'Black-ish', which has been running since 2014. An incredibly popular show over in the States, which has sprouted various spin-off series, this February five seasons of the show will be available to us to tune into thanks to Star arriving on Disney+.
Alongside Ross, the series also stars Anthony Anderson, and the pair are the dysfunctional parents to four children. Laurence Fishburne also makes guest appearances as the grandfather of the household.
Ross has claimed a Golden Globe for her role, and it has been nominated for a number of Emmy Awards over the years.
Here's what Tracee Ellis Ross had to say about her time as the matriarch of the family.
What does it mean for you to play such a strong female lead with Rainbow Johnson?
Oh, I love it! I like that she's so strong, but yet so flawed and a bit ridiculous at times. I love that she often learns her best lessons from her children, and how she is expanding on how we are seen as women and as a black woman on television. She's a black woman who is a wife, a mother, a sister, a daughter, and a doctor. I find that seven years later I am still so intrigued, so interested in her.
What episode or moment are you most proud of?
There's a couple. For Bow, the post-partum episode in season three, I thought it was incredibly important in terms of mental health and illuminating a subject that is often not discussed. It's such a prevalent and regular experience for women. And a lot of women don't know how to name it as such, let alone how to navigate that journey. Also, our 'Juneteenth' episode was incredibly important and also really fun, bringing in the musical aspect was really special and opening that subject we were discussing to the world, that was really important. I'll stop there but I can keep on going!
How do you think the Johnsons would deal with the pandemic?
Well, we've seen some of it - you'll get to see it later! Bow is a doctor so she ends up being on the front line and has to navigate now only how to keep her patients safe but also how to keep her family safe. Dre, as you can imagine, is a bit ridiculous - overshopping, overbuying - but I think they fend pretty well, like most of us across the globe.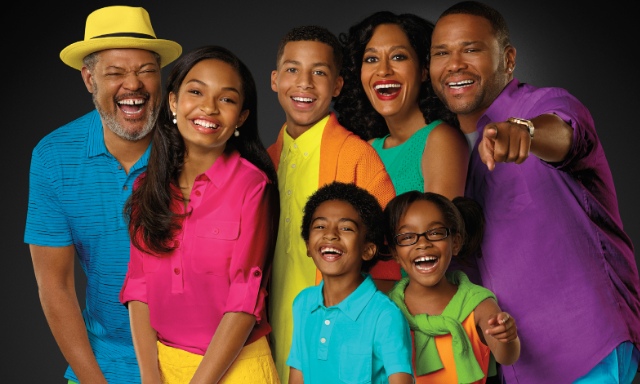 What do you think makes this show so special? Did you expect this success?
I hoped it would have this kind of success. I don't know that I expected it, I don't think one can ever expect it, and I'm also a bit superstitious in that way. I think there's a lot of factors that would make this show accessible to everybody. I think we tell really universal stories but told through the lens of this black family, which in and of itself is incredibly important. I think the writing is exceptional, we use humour to share very heavy and hefty topics, and so we open people's hearts and then slide in some information and see if they can learn something new or open their point of view about something. The cast is something special too - it's what it feels like at work, and it translates onto the screen.
What inspiration do you draw upon while playing Rainbow?
I draw inspiration from my own life experiences and my own point of view about things, which don't always match up. Often I am doing things and saying things as Bow Johnson that I would never do as Tracee! But that's the fun of being an actor.
Have you learned anything about yourself while playing Rainbow?
That's so interesting... I don't know! I'll tell you what I thought about myself - I can work a lot harder than I think I can. We have done seven years, we shoot five days a week, we do 24 episodes, we usually have long days, and one of the charming elements of our show is that we have multiple scenes. We once had an episode with 100 scenes. So that means a lot of costume changes, a lot of wardrobe fitting, long days. Don't get me wrong, I love my job, but waking up at 4.30 am and doing a 12 or 14 hour day and then going back the next day - it's a lot. And so these last seven years has taught me a lot about stamina.
The chemistry between you and Anthony Anderson is one of the best parts of 'Black-ish' - did that come through right from the beginning?
It did! It came through in the audition. We have a wonderful working relationship, and we have no other relationship outside of the show. We joke about it all of the time - I've never been to his house, he's never been to mine. Never been to dinner. We rarely talk on the phone. But we spend, as I said, 12 or 14 hours a day together in such an intimate setting. We see each other at five o'clock in the morning and we just have each other's backs. It's a really wonderful working relationship. There have been some creative risks that I can take, knowing that Anthony is by my side, that has allowed choices that I never would have imagined. We just dance - it's like we're the best dance partners ever. If we were on 'Dancing with the Stars', we would win!
The first five seasons of 'Black-ish' with Tracee Ellis Ross arrives on Star on Disney+ February 23.