Alas, the end is nigh for the blended superhero family, with one season left in their arsenal.
Netflix has announced that the quirky happenings in the world of 'The Umbrella Academy' will be back for a fourth season - but sadly this will be the end of the time-travelling/multi-dimensional action series.
Netflix broke the news across their social media platforms.
The series, which stars Elliot Page, Tom Hopper, Robert Sheehan, Ritu Arya and many more, rounded out its most recent season on a bit of a cliffhanger. Emmy Raver-Lampman's character Allison went against her (fake) father's wishes, saving her siblings' lives, but at the same time hitting the "reset" button. When we next see the siblings, they're all left powerless.
Showrunner Steve Blackman teased to The Wrap earlier this year what direction we'll be going in for the fourth season. He said: "I want to pose to the viewer and the fan, 'Would they be happier without their powers?' I mean, all they do is complain about being who they are.
"So will Victor, will Diego be happy without it or will they feel like they're missing an appendage? Will the world not be right for them anymore without powers? Can they be 'normal'?"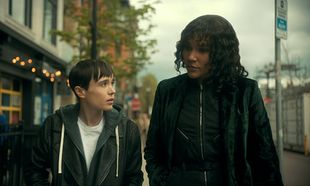 It was announced just yesterday that Blackman, who has also previously worked on 'Bones', 'Fargo' and 'Legion', will be helming a new TV series for Netflix based on a popular video game, 'Horizon'.
Expect more details about 'The Umbrella Academy' season four in the near future. The series does not yet have a release date, but given the hefty special effects of the show, a late 2023/early 2024 release window is possible.
'The Umbrella Academy' season one to three are on Netflix now.