Come one, come all, it's time for a scare at bedtime. But there are no Rodge or Podge puppets in sight.
The trailer for Netflix's 'The Midnight Club' has arrived this Tuesday afternoon, and suddenly we're all feeling rather spooky.
With October just around the corner, and that Pagan celebration that starts with a "H" and ends with a "ween" raring to go once October 1 rolls around, expect a flood of new and horrifying releases to hypnotise all who love a good fright.
'The Midnight Club' will be familiar to those who have been following creator Mike Flanagan's previous works, as the director was the one in charge of 'The Haunting of Hill House', 'The Haunting of Bly Manor' and last year's bloody mysterious arrival 'Midnight Mass'. This time around, however, it looks like we're getting another jump-fest similar to his first Netflix outing ('Hill House').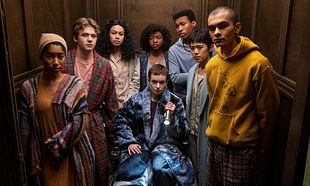 Based on the 1994 novel of the same name as well as other works by Christopher Pike, the young cast made up of Iman Benson, Igby Rigney, Annarah Cymone, Adia, Chris Sumpter, Aya Furukawa, Sauriyan Sapkota and Irish actor Ruth Codd will star as a group of terminally ill young adults who tell each other terrifying stories at night time. They did, however, make a pact that the next one of them to die will give the group a sign from the beyond...
There's a pretty reputable supporting cast lined-up for the series too - 'A Nightmare on Elm Street' franchise star Heather Langenkamp; some 'Midnight Mass' stars including religious nut Bev, Samantha Sloyan, Zach Gilford who played Riley and Matt Biedel who played Sturge; and William B. Davis who played "Smoking Man" in 'The X-Files'.
'The Midnight Club' will be made up of 10 episodes and hits Netflix on October 7. Here's the trailer for the long-awaited show.
Mike Flanagan's next Netflix project will be inspired by Edgar Allen Poe's gothic short story 'The Fall of the House of Usher'. Mark Hamill is part of the cast in this miniseries.