Important news coming out of Netflix this week is that 'Teletubbies' is getting a reboot with Titus Burgess narrating the children's show.
The popular kids series, which originally aired on BBC in the 90's, stars television-bellied Tinky Winky, Dipsy, Laa-Laa and Po.
The colourful humanoids live in a wonderful home of rolling green hills all under the watchful eye of the sun, who is also a baby. Fuelling their educational escapades is the coveted Tubby Custard, which sparked a generational urge to taste the pink stuff.
The synopsis of the show states: "Join colourful friends Tinky Winky, Dipsy, Laa-Laa and Po on wonder-filled adventures as they learn and grow in this 21st century refresh of the beloved preschool series, now narrated by Emmy-nominee Tituss Burgess ('Unbreakable Kimmy Schmidt').
Each episode includes new, original "Tummy Tales" songs that will have the entire family dancing along!"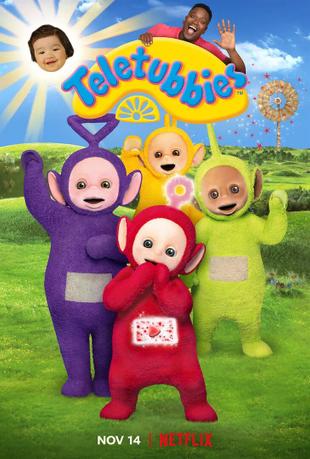 'Teletubbies' became a global phenomenon when it first aired from 1997-2001 and was later rebooted for a 2015-2018 run. 
The series, which drops on November 12, contains 26 twelve-minute-long episodes. The cast will include Rachelle Beinart, Rebecca Hyland, Nick Chee Ping Kellington and Jeremiah Krage.
From the information we've gathered about the 'Teletubbies' reboot, it looks like Netflix won't be going for the gritty origin story take. Our hopes for a horror spinoff about the scary lion and bear remain intact, however.
'Teletubbies' debuts on Netflix on November 12.