December is always a crazy month, no matter how much you try to stay calm. So here are some releases to watch during your downtime.
`If Mariah Carey says it's Christmas, it's Christmas. And if, like us, you're gearing up for a mad month of all sorts of gatherings, then you're going to need some new streaming releases to watch this December. And no, before you ask, there aren't a lot of festive hits on this list.
That mystifying time in between Christmas Day and New Year's when you can't tell what day of the week it is, your body has become half turkey sandwich and half selection box, and your Christmas jumper has become alarmingly tight, could also be the perfect time to look for something new to watch.
Here are 10 new picks for you to look forward to this December.
'Willow' | Disney+, Nov 30
November is the new December, right? With a new episode releasing weekly throughout December on Disney+, we're going to include 'Willow' in our line-up because why not? Warwick Davis returns to this franchise that has been brought back to life just in time for an epic streaming session during the winter nights, continuing the fantastical adventure of the original '80s film. This fresh take sees the Nelwyn sorcerer lead a group of misfit heroes on a harrowing rescue mission through a world beyond imagination.
'Your Christmas or Mine' | Prime Video, Dec 2
It's December, so at least one festive release has to make the cut, right? Asa Butterfield ('Sex Education'), Cora Kirk ('Prey For the Devil'), Daniel Mays ('Code 404') and Angela Griffin ('White Lines') star in this Christmas Eve-Eve romantic comedy about a big festive mix-up that sees a young couple experience each other's family Christmases. Bloody snow...
'Emily in Paris' season three | Netflix, Dec 21
Bonjour! Bonjour! The unofficial queen of Christmas (sorry, Mariah) is back for more awkward adventures in Paris. We're loving being able to watch Emily's latest drama over the holiday seasons and 2022 is no different, luckily. Our third go at the Parisian hijinks sees Emily part ways with her old job to join up with Sylvie, Julien and Luc - what could go wrong? If 'Emily in Paris' isn't your jam, or if other cheesy drama series 100% are, then watch out for another 'Firefly Lane' season two, which hits Netflix on December 2.
'Rosie Molloy Gives Up Everything' | Sky & NOW, Dec 7
'Father Ted' icons Ardal O'Hanlon and Pauline McLynn star in this new Sky Original comedy series as husband and wife - if you can wrap your head around that. 'Rosie Molloy Gives Up Everything' follows Sheridan Smith, whose character is addicted to everything from smoking, alcohol, Terry's Chocolate Oranges and Xanax. But now, you guessed right, she's about to pack it all in.
'The Witcher: Blood Origin' | Netflix, Dec 25
Season three of 'The Witcher' might be a while away just yet, but first we have an origin story to watch - and it looks very exciting! Michelle Yeoh, Jodie Turner-Smith, Minnie Drive, Lenny Henry, Dylan Moran and loads more star in a prequel series to the Netflix Original, which takes place 1,200 years before those events unfold. Irish filmmaker Declan de Barra co-created the four-part series.
'Three Pines' | Prime Video, Dec 2
Adapted from Louise Penny's New York Times best-selling Chief Inspector Gamache series, 'Three Pines' follows Armand Gamache (Alfred Molina) as he investigates cases that happen beneath the idyllic surface of the Quebec village of Three Pines, finding long-buried secrets, and facing a few of his own ghosts. There are many mysterious townsfolk at play, all with murky pasts, so can he read between the lines in order to crack the case and find whoever's responsible?
'Glass Onion: A Knives Out Mystery' | Cinemas Now / Netflix, Dec 23
'Glass Onion' might have been best to watch in a cinema full of unknowns, but if you missed it during its short release in theatres then stream it surrounded by your nearest and dearest. The super well-received 'Knives Out' follow-up sees Daniel Craig return as Benoit Blanc, who is once again tasked with solving another murder. This time around, it's a group of strangers who are under his steely gaze, each of them more suspicious than the next.
'Pinocchio' | Netflix, Dec 9
Netflix really is dishing out a lot of heavy-hitting releases to keep us warm this December. From the beautifully unhinged mind of Guillermo del Toro and animation legend Mark Gustafson comes yet another retelling of the classic tale about a wooden toy who comes to life. Ewan McGregor, Tilda Swinton, Christoph Waltz and many more big names lend their voices to this stop-motion spectacular.
'I Hate Suzie Too' | Sky & NOW, Dec TBC
She's back. And she's dancing. Suzie Pickles steps back into the spotlight as the Bafta-nominated and critically acclaimed Sky Original dramedy returns for a three-part anti-Christmas, Christmas special. 'I Hate Suzie Too' once again stars Billie Piper as the former child star, and this time around she's got a new agent, a new PR and a new job – dancing on a new reality show.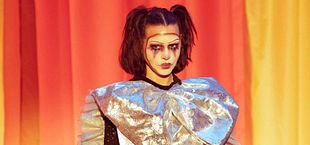 'Treason' | Netflix, Dec 26
We can't keep up with all of the Netflix releases this month. Our final pick drops on St. Stephen's Day and stars 'Kin' leading men Charlie Cox ('Daredevil') and Ciarán Hinds ('Belfast') teaming up once again for yet another one-word thriller series. 'Treason' is a five-episode limited series about an MI6 agent whose murky past comes looking for him in the shape of a former flame. ¡Qué escándalo!