The full cast line-up of the new Star Wars series on Disney+ has been revealed - and it's pretty breathtaking.
To say that we are excited about 'The Acolyte' would be an understatement.
The upcoming Disney+ series based within the Star Wars universe has begun filming this week, and the star-studded cast of the production has been unveiled.
The one and only Carrie-Anne Moss from 'The Matrix' and 'Jessica Jones' leads the cast, alongside 'Logan' and 'His Dark Materials' star Dafne Keen.
Also joining the cast is Manny Jacinto from 'The Good Place' and 'Nine Perfect Strangers', as is 'Squid Game' break-out star and Emmy Award-winner Lee Jung-jae.
The formidable Jodie Turner-Smith from 'Queen & Slim' has also been cast in the next Star Wars creation. Rebecca Henderson from 'Inventing Anna' will also appear alongside her 'Russian Doll' co-star Charlie Barnett for the sci-fi series, as will Dean-Charles Chapman from '1917' and 'Game of Thrones', with Amandla Stenberg - Rue from 'The Hunger Games' - rounding out the cast list.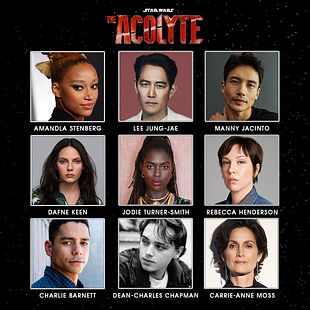 Now that's one impressive line-up, you'll have to admit.
Star Wars tweeted out the cast list this afternoon, alongside he first behind-the-scenes image from the series.
'The Acolyte' will be a prequel series set around 200 years before The Skywalker saga begun, during a time known as the High Republic era. The official logline of the series teases: "A series that takes viewers into a galaxy of shadowy secrets and emerging dark-side powers in the final days of the High Republic era."
Leslye Headland (of Netflix's 'Russian Doll' and Hulu's 'Single Drunk Female') is the series showrunner and director, so expect this to be yet another a different take on the Star Wars universe, given her flair for all things comedic and mysterious. The most recent Star Wars/Disney+ release, 'Andor', has been getting rave reviews for its grittier take on the franchise.