Season 15 of the much-loved series will premiere on FXX on December 1st. Streaming will also be available on FX+ and Hulu the next day.
Due to the ongoing pandemic, there was an extended hiatus between season 14 and 15. Shooting finally wrapped for the new season in October.
The official synopsis for the new season reads: "This is a season that sees The Gang try to exploit pandemic aid, sidestep cancel culture, evade criminal justice, reflect on their origins, and reconcile their identities and homeland roots."
The poster for the new season is almost impressive in its stereotyping of Ireland. It's complete with red hair, freckles, green clothes, a pot of gold and Danny DeVito dressed as a leprechaun.
However, the owners of Paddy's Pub are no strangers to being fairly ignorant, we're pretty sure it's in their character descriptions. So, for the purpose for satire, we'll let it slide.
The Gang also visited the Emerald Isle for real this season. It was reported a couple of months ago that filming was taking place in Ireland for the new series. We even got a lovely snap of the cast enjoying the scenery.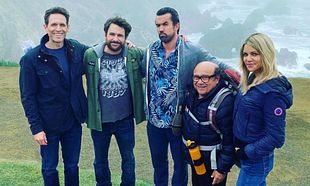 Season 15 will comprise of eight episodes, two of which will be shown on the premier date. It is set to break the record for the longest running live-action comedy series, surpassing 'The Adventures of Ozzie and Harriet'. It was also renewed for four more seasons back in 2020.
Check out the poster below.