Noel Fielding will star as Dick Turpin, the legendary British highwayman in Apple TV's new untitled comedy series.
Turpin was born in 1705 and was part of a gang of deer thieves. He later became a poacher, burglar, horse thief and killer. He subsequently hanged for his crimes in 1739.
After his death, Turpin became the centre of various myths and legends. One such example being a fictional 200 mile overnight ride from London to York on his horse Black Bess. He was commonly fictionalised as a dashing and honourable gentleman.
"In this irreverent retelling, Dick is the most famous, but least likely of highway robbers whose success is defined mostly by his charm, showmanship, and great hair," the synopsis states.
"Together with his gang of loveable rogues, Dick rides the highs and lows of celebrity — and does what he can to escape the clutches of the Thief Taker General."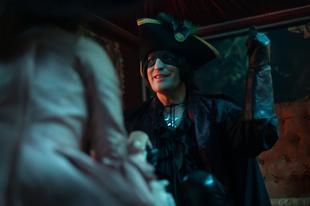 Fielding, 48, is most recognised from his hosting duties on Channel 4's 'The Great British Bake Off' alongside Matt Lucas. He has also starred in 'The Mighty Boosh', 'Garth Marenghi's Darkplace' and 'The IT Crowd'.
The upcoming series was created by Claire Downes, Stuart Lane, and Ian Jarvis, who also serve as writers. Fielding also serves as a script consultant, alongside Jeremy Dyson. 
Ben Palmer will direct the series. Fielding, Palmer, Kenton Allen, Victoria Grew, and Matthew Justice will executive produce.
There is no release date for the series at the time of writing.
For more news on this new series and more, be sure to keep up to date with us on our website.