Netflix have told employees that the lower-priced ad-supported tier will be in place by the end of the year.
The New York Times reported that the company will begin its crackdown on password sharing as it looks to stem its financial problems.
Per the New York Times piece, Netflix executives said that they were aiming to introduce the ad-supported tier in the final three months of the year.
The note also indicated that Netflix were planning to begin cracking down on password sharing among its subscriber base around the same time.
Netflix lost 200,000 subscribers in the first three months of the year, with the New York Times reporting the company expected to lose two million more in the months ahead.
Reed Hastings, Netflix's co-chief executive, told investors that the company would examine the possibility of introducing an advertising-supported platform and that it would try to "figure it out over the next year or two."
In a note to employees, Netflix executives said their competitors HBO Max and Hulu have been able to "maintain strong brands while offering an ad-supported service."
"Every major streaming company excluding Apple has or has announced an ad-supported service," the note said.
"For good reason, people want lower-priced options," the note added.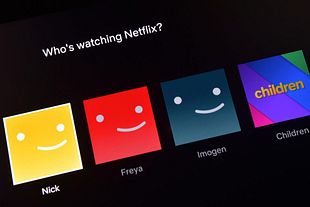 The move to raise prices has been controversial, with the lowest Netflix tier starting at €8.99 a month and watching on one screen at a time, €14.99 a month for a basic HD option and 2 screens at a time, and €20.99 a month for those wishing to view content in UHD and 4 screens at a time.
Netflix also came in for heavy criticism from users for its plans to clamp down on account sharing, which Netflix estimates at 100 million households sharing passwords.
Netflix's debt currently stands at €13.2 billion, with the company paying €178 million in interest in the first quarter of 2022 alone.
In the earnings call, Greg Peters, Netflix's chief operating officer laid out an example of why the company believes it needs to implement this change.
"So if you've got a sister, let's say, that's living in a different city; you want to share Netflix with her, that's great."
"We're not trying to shut down that sharing but we're going to ask you to pay a bit more to be able to share with her."
Industry analysts have speculated that Netflix may have reached a roof in terms of subscribers, with over 200 million paid subscribers worldwide, but their closest rival Disney+ raking up 130 million paid subscribers in less than 2 years on the market as opposed to Netflix's 10-year head start.