The future of Netflix series 'Mindhunter' looked dead in the water, with news of the show being put on indefinite hold in 2020.
In a Vulture interview around the time, executive producer David Fincher confirmed the news, seemingly putting the final nail in the coffin.
"I think probably [it's finished]. Listen, for the viewership that it had, it was an expensive show."
"I honestly don't think we're going to be able to do it for less than I did season two. And on some level, you have to be realistic about dollars to equal eyeballs."
But in an interview with Jimmy Fallon this week, Jonathan Groff - who plays Agent Holden Ford - sounded like he's still holding out hope for another season.
Fallon asked which project was more likely, a third 'Frozen' movie - in which Groff plays Kristoff - or a third season of 'Mindhunter'.
Groff replied, "I feel like, even though those projects seem very different, I feel like a third 'Frozen' and a third season of 'Mindhunter' are equally possible."
That answer, however tongue-in-cheek, definitely leaves a door open for fans of the show to keep the faith.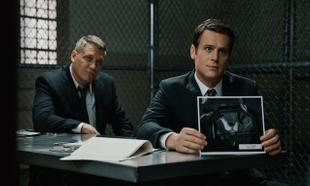 'Mindhunter', which stars Groff, Holt McCallany and Anna Torv debuted on Netflix in 2017 and details the beginnings of the behavioural sciences unit in the FBI. The show features many infamous criminals like, Ed Kempner, David Berkowitz (aka Son of Sam) and Charles Manson.
'Mindhunter's two seasons both received critical acclaim. But ever since the second season's release in 2019, there were questions over a possible third. It was then revealed that the project was put on indefinite hold.
Fincher, the show's executive producer and de facto showrunner, cited many reasons for the show going on indefinite hold. Some of those included his focus on other projects, budget and production issues like script rewrites.
However, Fincher signed a four year Netflix deal last year, which could be good news to fans. Groff is also clearly on board for another season. Why not get the band back together?
Watch the full interview with Jonathan Groff on The Tonight Show with Jimmy Fallon below.
Series one and two of 'Mindhunter' are available to watch on Netflix.