We've got our first look at the cute new animation from Disney and Pixar.
In the 'Luca' trailer, we meet sea-monsters Luca and Alberto who attempt to live out a double-life along the Italian Riviera in a fictional town called Portorosso. You see, these young boys aren't what they appear to be - they're actually a couple of sea monsters.
'Luca' is the latest Pixar movie to be hitting Disney+, which will arrive on the streaming service this June. Their previous release 'Soul' went on to win Best Animation at the Oscars this past weekend.
The voice cast of the animation features Jacob Tremblay ('Room', 'Wonder') as Luca Paguro, with Jack Dylan Grazer ('IT', 'Shazam!') as Alberto Scorfano. Also appearing in the cast will be Emma Berman as Giulia Marcovaldo, Italian comedian Saverio Raimondo, Jim Gaffigan, Sandy Martin, Giacomo Gianniotti, and Marco Barricell. Comedy queen Maya Rudolph is also among the cast and will play Luca's mom Daniela.
'Luca' will be Pixar Animation Studios' 24th feature film, and is directed by Enrico Casarosa (Pixar short 'La Luna'), with the movie's score composed by Dan Romer ('Beasts of No Nation', 'Maniac') created the score.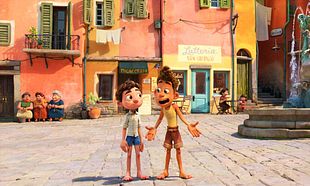 'Luca' is a coming-of-age story about one young boy experiencing an unforgettable summer filled with gelato, pasta and endless scooter rides. Luca shares these adventures with his newfound best friend, but all the fun is threatened by a deeply-held secret: they are sea monsters from another world just below the water's surface.
Here's the first 'Luca' trailer for the upcoming animation.
'Luca' will stream on Disney+ from June 18.