We don't know about you, but we're feverishly excited to see just how good Amazon's take on the sprawling fictional saga goes.
Our return to Middle-earth is nearly upon us. This September, Prime Video's 'The Lord Of The Rings: The Rings Of Power' will premiere across the world to fans of the books, the movies, and also hoping to spark interest in a new fanbase along the way.
But - what's it all about? Allow us to do a deep dive into everything we know about the show so far, for all you keen (Sean) beans out there.
So Hobbitses, what's the synopsis?
Set thousands of years before anything we've seen of the franchise on our screens so far, Amazon Studios' forthcoming series brings the heroic legends of the fabled Second Age of Middle-earth's history to life.
The synopsis released by the studio has been fairly wishy-washy so far, but what we presume will happen is that the series will build up to the forging of the 19 magical rings "created" by Sauron and dished out across the land. That's right - Sauron, "The One To Rule Them All", will be on the screen.
For those who need a refresher, the 20 forged rings, known as the Lesser Rings, were spread across the map, with Sauron's plan being that those who came into contact with a ring bending their knee to him. He oversaw the creation of the rings by Elven smith Celebrimbor, and then went to Mount Doom to forge his "One Ring To Rule Them All" (the very same one that crosses Frodo Baggins' hands). Men were given nine, seven for the Dwarves, three for the Elves; the final one he kept for himself in Mordor, the most powerful one of all.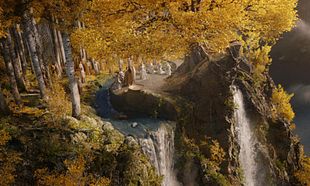 Beginning on a lighter note while the ensemble of characters are introduced, don't expect that rose-tinted version of Middle-earth to last very long. Expect to visit locations such as the Misty Mountains, the village of Tirharad, the elf-capital Lindon, the island kingdom of Númenor, and other new locales not yet seen in Peter Jackson's six films.
By the sounds of it, there are a lot of stories to be told, which will mean the potential for multiple seasons or even spin-offs. Showrunners J.D. Payne and Patrick McKay said of their creation: "This is a title that we imagine could live on the spine of a book next to J.R.R. Tolkien's other classics. 'The Rings of Power' unites all the major stories of Middle-earth's Second Age: the forging of the rings, the rise of the Dark Lord Sauron, the epic tale of Númenor, and the Last Alliance of Elves and Men.
"Until now, audiences have only seen on-screen the story of the One Ring – but before there was one, there were many… and we're excited to share the epic story of them all."
Who's in the cast list?
How much time have you got? The cast of 'The Rings Of Power' is vast. First up, the role of a younger Galadriel (previously played by Cate Blanchett) is Welsh actor Morfydd Clark ('Saint Maud'). A strong fighter in her youth, it'll be exciting to see the Elven warrior play a more central role in the prequel series. Robert Aramayo ('Behind Her Eyes') stars as Elrond, an eventual bearer of one of the Elven rings and Lord of Rivendell (played by Hugo Weaving previously). Ismael Cruz Córdova ('The Undoing') will play an Elf named Arondir, who falls in love with Bronwyn, a common woman played by Nazanin Boniadi ('Homeland'). Charles Edwards ('The Crown'), meanwhile will play Celebrimbor, the forger of the destructive rings.
There's also the star of stage and TV Lenny Henry, who joins the cast as a Harfoot, a new take on the famed Hobbits; Welsh actor Owain Arthur plays Dwarven Prince Dirun IV; Maxim Baldry ('Years And Years') will play Isildur, the eventual King of Arnor and Gondor, who plays a pivotal role in the 'LOTR' folklore; there's also Sophia Nomvete, who plays Dwarven princess Disa.
It's important to note that there are many actors currently listed in undisclosed roles, meaning that Amazon is keeping a lot of the characters tight-lipped for now. Other cast members include Peter Mullan ('Top Of The Lake'), Cynthia Addai-Robinson ('Arrow'), Trystan Gravelle ('A Discovery of Witches'), Lloyd Owen ('Miss Potter'), Joseph Mawle ('Game Of Thrones'), and Thusitha Jayasundera ('Doctor Foster') plus many more.
Will it be any good, though?
It's very hard to tell, but from what we've seen of the series so far, it's quite apparent that Amazon has thrown a lot of money behind 'The Rings Of Power'. And as we know, money can be a good or a bad thing when it comes to making a J.R.R. Tolkein work come to life.
Peter Jackson's original 'Lord Of The Rings' trilogy is the second breakfast to many Hobbits across the world. Jackson managed to turn the sprawling trilogy of novels into a magical cinematic feat that will go down in history as one of the most beloved trilogies ever created.
His take on 'The Hobbit, however? A mixed bag. Essentially an uplifting and easy to read children's book (when compared to the vast and complex sequel series, at least), Jackson's take on 'The Hobbit' was hoping to capitalise on the fanfare of the early 2000's money-makers, repeating the success with a prequel series. While still becoming a box office success, the three releases proved that too much money can be overkill and one standalone film would have sufficed. Although, at least there was one bad-ass female figure in Evangeline Lily's Tauriel. On that...
Are we getting another white-washed take?
Thankfully, no. The original 'LOTR' trilogy of movies (and the novels, naturally) are very much of their time, featuring hardly any diversity and only three noteworthy female characters. 'The Rings Of Power', however, is looking to rear-end this outdated concept that Middle-earth is only inhabited by white men on horses.
Star of the forthcoming series, Lenny Henry, previously stated that the character he plays will be part of an indigenous population named Harfoots. A different take on Hobbits, he says their tribe will be "multi-cultural", featuring "Black, Asian and brown, even Maori types within it".
As we can see from the sheer amount of character posters released earlier this year, and other tidbits of information, females and people of colour will be front and centre in this prequel. Henry stated: "There's a very strong female presence in this, there are going to be female heroes in this evocation of the story, and there are going to be little people as usual," he added.
Is there just going to be one season or...?
We're not going to speak for Amazon, but we're guessing they're hoping 'The Rings Of Power' will be the streamer's answer to 'Game Of Thrones'. Given the humongous, dedicated fanbase already in place, even if the first season doesn't live up to the hype (which we hope doesn't happen), the season will be a hit.
Amazon has already greenlit a second season, which will begin shooting in mid-2022 in the UK, and it's likely they're hoping that the series will become a sprawling, picked-apart-by-fans hit. Should everything work out as planned, 'The Rings Of Power' could continue for multiple seasons and even earn itself a spin-off or two. That's all in the future - but we reckon five seasons over 10 years sounds doable.
I am sold. When's it coming out?
September 2, 2022 is the date to mark in your diaries. Using Amazon's usual release schedule, not all eight episodes of the first season will be released at once, meaning we'll have to tune in weekly.