Fed up of watching a TV series in the correct order, from beginning to end? Uh, well, as weird as this sounds, Netflix's new heist series is shaking our viewing experience up in a pretty big way.
Netflix's 'Kaleidoscope' series might look like a star-studded heist/crime adventure on the surface, but you'll quickly realise that this is like nothing we've ever seen before.
The series, which debuts on the streamer just in time for the new year, will see each Netflix subscriber experience a different journey through the heist caper.
You see, not everyone is going to watch the episodes of the limited anthology series in the same order, which will ultimately manipulate your viewpoints on the characters and the storyline.
The first seven episodes, which are titled 'Yellow', 'Green, 'Blue', 'Violet', 'Orange', 'Red' and 'Pink,' will be generated in random order for each person who tunes into the series. Only the series finale, 'White: The Heist' will be everyone's final episode.
So, if you're chatting with friends about the series after tuning into a few episodes, chances are you've already seen an episode that they haven't - and vice versa. So, watch out for accidental spoilers. It's pretty cool and a little mind-boggling, right?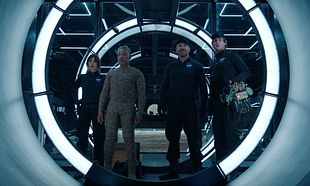 Giancarlo Esposito ('Breaking Bad'), Tati Gabrielle ('Chilling Adventures of Sabrina'), Jai Courtney ('Suicide Squad'), Rufus Sewell ('The Man in the High Castle'), Paz Vega ('Spanglish'), Rosaline Elbay ('Ramy') and Peter Mark Kendall ('The Americans') star in the rather exciting crime drama that spans over 25 years.
Netflix describes each episode of 'Kaleidoscope' as a puzzle piece: "An all-new anthology series following a crew of masterful thieves and their attempt to crack a seemingly unbreakable vault for the biggest payday in history.
"Guarded by the world's most powerful corporate security team, and with law enforcement on the case, every episode reveals a piece of an elaborate puzzle of corruption, greed, vengeance, scheming, loyalties and betrayals. How did the crew of thieves plan it? Who gets away with it? Who can be trusted?"
Adding to the madness, the series is loosely inspired by a real-life story involving seventy billion dollars in bonds going missing in Manhattan during Hurricane Sandy in 2012.
Check out the first-look featurette of the series below, which delves a little deeper into the complicated making of it all.
'Kaleidoscope' begins on Netflix on January 1, 2023.