Star of 'Stranger Things' season 4 and Metallica enthusiast Joseph Quinn revealed on Jimmy Fallon that he almost missed his slot due to being held up at customs.
The 28-year-old appeared on his talkshow debut in New York this week to chat about his rise to fame as Eddie Munson and what it was like to get Metallica back in the charts.
However, he nearly missed his chance to appear on the show after getting held up in the airport.. Luckily for the 'Stranger Things' star, some keen-eyed airport staff noticed who he was, even without the wig.
"I was taken into, what you would call... more of a dungeon, and I was asked to wait there for twenty minutes. And then I was summoned to this desk where someone asked me, 'what are you doing in the United States, sir?'. I said, 'well I'm actually here to meet Jimmy Fallon on the Tonight Show'. And he didn't believe me."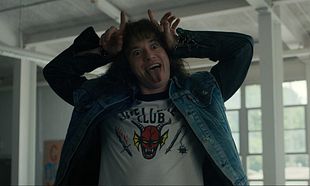 "One of his colleagues looked over at me, looked at him and said, 'leave Eddie alone.' Then he said 'You're Eddie Munson? Do you come back next season?' And I said 'uh, I dunno'. He was like, 'you better' and gave me the passport."
At the end of 'Stranger Things' season 4, Eddie is apparently killed after being attacked by a swarm of Demobats. However some fans and media outlets have theorized that it might not be the end of the beloved character.
However, creators of the show, the Duffer brothers, have seemingly confirmed Eddie is well and truly dead. But, we've been fooled before. We'll only know the real truth once season 5 rolls around.
You can watch the full interview below.
'Stranger Things' season 4 is available to stream on Netflix.