'Game of Thrones' author George R. R. Martin has opened up about wanting an on-screen world similar to the MCU, but has reservations about his future position in the franchise.
The 73-year-old writer showed his appreciation for Marvel's worldbuilding on television. His hopes of replicating the comic book universe seem to be mirrored in the many 'Thrones' spinoffs coming to the screen soon.
"The MCU has 'The Avengers,' but they also have something offbeat like 'WandaVision,'" Martin explained to The Hollywood Reporter. "That's what I hope we can do with these other 'Game of Thrones' shows. So we can have a variety that showcases the history of this world. There are only so many times you can do a competition for the Iron Throne."
The newest addition to the 'Thrones' world sees us return to Westeros, 200 years before the events of the original series. In 'House of the Dragon' we follow the Targaryens when they ruled the Iron Throne.
Martin has continued to have a heavy creative input into the multiple ongoing productions. He met with Kit Harrington earlier in the year to work on the upcoming 'Snow', which centres on the character Jon Snow from the original series.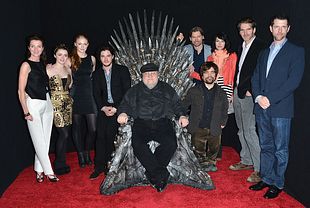 However, with his commitments to finishing the next 'Thrones' book, and the huge amount of spinoffs coming our way, Martin admits he is questioning his future position in the franchise.
"Sometimes I sit around trying to figure out who the hell I am in this whole scenario," he opened up. "Am I George Lucas? Am I Gene Roddenberry? Am I Stan Lee? How do I relate to this IP? Because those are three different stories as to where they wound up."
Martin was quick to state his intentions are not to end up like the Marvel creator, Lee, however. "He had no power, no influence, he wasn't writing any stories. He couldn't say, 'Don't do this character.' He was just a friendly person they brought to conventions and who did cameos."
Martin added, "To be side-lined on the world and characters that you created, that would be tough."
'House of the Dragon' begins on Sky Atlantic and NOW on August 22.