"There is story that connects to the 'Stranger Things' world, but it really is more about how we're telling that story."
'Stranger Things' creators The Duffer Brothers are currently riding that wave of having their fourth season of the Netflix show become critically acclaimed and hailed as a return to form for the series. However, at the same time, viewers are wondering what the current status of their 'Stranger Things' spin-off is, and who it will follow. The answer, however, is anyone's guess.
Well, one thing we know for sure is that the series will not be following one of the central characters of the series, especially not Eleven (Millie Bobby Brown), Steve (Joe Keery) or Dustin (Gaten Matarazzo).
The series creators chatted all about their plans for the upcoming creation, which they have promised is "1000% different" from the main franchise. They admit that Netflix doesn't even know details about their big idea yet, but they do know the nostalgic/family tone of the franchise will remain very much intact, even though they don't plan on staying with the franchise past 'Stranger Things' season five.
Matt and Ross Duffer told the Happy Sad Confused podcast with Josh Horowitz: "Hopefully we find that right person to pass the baton to while we go on to do new stuff.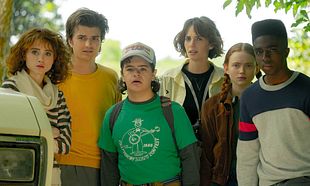 "It's not following – I've read these rumours that there's gonna be an Eleven spinoff, that there's gonna be a Steve and Dustin spinoff, or that it's another number. That's not interesting to me because we've done all that. We've spent I don't know how many hours exploring all of that. So it's very different.
"The most important connective tissue I would say is the storytelling sensibility of it. There is story that connects to the 'Stranger Things' world, but it really is more about how we're telling that story."
Which, to be honest, is probably the best news we could hear about this 'Stranger Things' spin-off. While Eleven's story is an interesting one, it's not the most compelling part about the franchise. What viewers love about the show, and keeps viewers coming back for more, is the friendship dynamic, the whimsical moments shared between the fun cast, the musical beats, and the general naivety that we associate with the series.
It's no wonder then that J.J. Abrams' 'Super 8' was a huge influence on the Netflix franchise, which the Brothers would like to replicate for this eventual spin-off.
They continued: "We moved into the 2000s, and I love Chris Nolan, but everything became dark and real and grounded. We wanted to bring back that more not ironic, sincere, adventure, family storytelling that just seemed to have gone [away] – with the exception of 'Super 8', nobody was doing [it]. And 'Super 8' was kind of a one-off. I loved 'Super 8' but then it was just gone. No one else did it. And I do think there was an appetite – or that's what I hoped – for this type of storytelling, so that really more than anything is what it is, is trying to stay in that zone."
Our bet? This spin-off could be about Brett Gelman's Murray Bauman and his love for all things weird and conspiracy theory-based. entertainment.ie even had a chat with the actor about this very subject before season four began, with the actor admitting he would love to return as the Russian-speaking journalist, saying "there would be a way to create a story around him".
David Harbour, who plays fan-favourite Hopper in the series, put forward his two cents in the 'Stranger Things' spin-off game. Speaking with GQ Magazine, he said that if there was a Hopper prequel series greenlit, he'd love 'Euphoria' star Jacob Elordi to play him.
In the same podcast, the Duffer Brothers said that at the moment, the fifth and final season of 'Stranger Things' will not clock in as long as season four. They added: "You can't satisfy everyone, but the hope is that it's something that feels right for this story."