Cynthia Erivo is an Emmy, Tony, and Grammy-award winning star at the age of 34. Her next big task is taking on the mantle as the Queen of Soul.
Cynthia Erivo stars as Aretha Franklin in 'Genius: Aretha' for the National Geographic. This is the third season 'Genius' and the first to focus on a black person as the subject matter (Einstein and Picasso coming before it).
The eight-episode series chronicles Aretha's life, from innocent beginnings as the daughter to pastor C. L. Franklin (played here by Courtney B. Vance), her struggling relationship with Ted White (played by Malcolm Barrett), all the way to being crowned as the "Queen of Soul" in Chicago in 1967.
Cynthia began her career in the West End in London (winning an Emmy for 'The Color Purple'), before making it onto TV screens in 'Chewing Gum', 'Broad City', and even 'RuPaul's Drag Race'. She will star in Disney's upcoming live-action 'Pinocchio' as the Blue Fairy.
Hi Cynthia, it's wonderful to see you. Aretha has such a vast catalogue of hits - did your favourite song of hers change before and after you recorded 'Genius: Aretha'?
Yes! My favourite is 'Ain't No Way'. it's just one of my favourite songs to sing - it feels good to sing and I love the story that it tells. But by the end of the series we were doing 'You're All I Need To Get By'. I'd never heard her version of it before I did this, and now it's just one of my favourite songs that she sings her way. There's just a sweetness and then it becomes really triumphant towards the end. I love it.
What do you hope will be the main message that the audience receives after watching the show?
Given that this is the first in that series that focusses on a black woman of colour and her genius, I hope that we start to learn, as a whole, that black women are capable of "genius". Genius can look different on different people. She was a concert pianist who didn't know how to read music, which in itself is an incredibly special thing, but I think that, hopefully, people will learn that we are able to come through so many different things in order to make ourselves our best selves. And that each person comes with different skills and talents and each person is special in her own way.
Often black women are overlooked for the work they can do, and hopefully, this will shine a light, not just on the work she was doing, but the work that black women can do and what we have to go through in order to get to those places.
You had the opportunity to meet Aretha, didn't you?
Yes, the first time I met her I had just done a show and she came backstage and she sang the line of a song that I was singing in the show - back to me! I was pleased about that because it meant she liked it.
The second time I met her I was performing at an event and she remembered me. She pointed at me and said "Oh you can sing. You're the girl who can sing". That in itself made me feel great because it meant that someone who I look up to believed that I had some talent. I ended up looking at the taping of that event and it turns out that she was singing along with me, so that felt wonderful to know. Someone who I believed was the epitome of a talent, of something wonderful, was able to see something in me too.
What aspect of her life helped you understand Aretha the most?
I think it's her music. The songs she chooses to do, the stories she chooses to tell, and listening to how confident she is singing and then watching an interview of her and how demure and shy, quiet, and withdrawn is always a curious thing for me to watch. They are such dichotomies because they are so different.
When you're listening to something like 'Rock Steady' she is so big and bold and confident. And then I think there's a clip of her on a gameshow and she shuffles in and she's on really high heels and she sits and she's very, very quiet. Each question she asks is basically one or two word answers. For me it was finding out how does she go from the shy person when you meet her to that person that we meet when she's on stage or in studio and singing.
Something between that to the music is connective tissue and that was what was so interesting to go into. Finding those things that made her tick.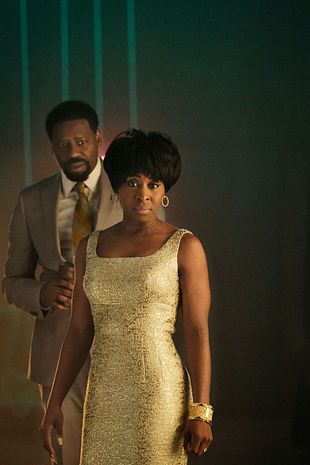 Did you discover another "genius" in you, besides your voice?
I found myself being really confident about the storytelling - that was my work on this. Really finding a way to tell this story in the most truthful of ways. It was one thing to know I can sing, and quite another thing to understand how Aretha was making certain sounds, how she makes that connective tissue in her music, and then having to do that myself.
I know what my voice can do, but having to learn what Aretha's doing with her voice and then do it with my voice, in my way, that was another part of discovering that that was another expansive part that my voice can go to. And one that I didn't know was there.
Did you feel pressure in having to play the Queen of Soul? And how family and fans would perceive it?
She is such a big space in our world - everyone has their version of what Aretha is, their own connection to her. So when you take this on, you know it's going to be a huge task. It's a mountain! So you just keep taking small steps in order to get to the top of it.
More than anything, it was an overwhelming sense of responsibility to tell this story as fully as I possibly can, and truthfully, so that she can be pleased. I really wanted to do Aretha proud - that was my biggest main focus. Even down to working with my hairstylist and my make-up artist to make sure we pick the right make-up and hair and that we're shifting with the time in the right way.
We're not just paying homage to her music, but also to the choices and the style choices that she made. I feel like they weren't just ways to look but were her making statements about how she felt about herself in those times.
You can't concentrate on what everybody is going to say, otherwise you will never get it done. You have to just hope and pray that you are doing the work that is necessary, tell the story, and maybe, just maybe, people will come with you when it comes out. There's no control over that.
We often don't get to see black stories on screen - do you think telling stories like Aretha's is a way of reclaiming back the history for black women and black people in general?
I definitely think so. I think that the more we get to tell these stories using our voices, the more we really get to tell where we were in history. There are times when we skirt over the wonderful moments that black people have had throughout history. The more we tell these stories, the more we get to reintroduce you to our histories. I hope we get to do it more often. The special thing about this is that it was written by a black women and directed by a black man. We have this in our hands to give, which is really special.
At the end of our video interview, Cynthia Erivo gave us a stunning sample of 'Never Grow Old', making the hairs on the back of our necks stand on end: a perfect way to end a stunning interview.
'Genius: Aretha' is available via National Geographic on Disney+. The first two episodes will premiere on Friday, June 4, with a new episode each week thereafter.