Our Deep Dive series takes a look at upcoming films and TV shows and examines their history, lore and predictions for what we might encounter. First up: 'The Sandman'.
This month, we were treated to the new trailer for the upcoming fantasy series, an adaptation of the legendary DC comics series, arriving on Netflix in August.
For those outside the fandom of the comics, 'The Sandman' and his origins are complex and perhaps a bit intimidating. So, we're breaking down exactly what you need to know going into the first episode. You'll be well equipped to join the fandom of what's sure to be the talk of the internet next month.
What is 'The Sandman'?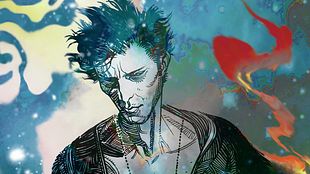 'The Sandman' originated in the 80's, when a young writer called Neil Gaiman (author of 'American Gods', 'Good Omens' and 'Neverwhere') requested to revive the 1974-76 run of DC comics by Joe Simon and Michael Fleischer. His proposal was eventually accepted, however, DC wanted an entirely new Sandman, one completely of Gaiman's imagination.
The debut 'Sandman' comic released late 1988, written by Gaiman. He worked alongside illustrater Dave McKean, inker Mike Dringenberg, letterer Todd Klein, and colourist Robbie Busch.
The story follows the titular protagonist also known as Morpheus or Dream. The thin, pale character - a visual mix of Gaiman himself and Robert Smith of The Cure - is one of the seven Endless, "the anthropomorphic embodiments of powerful natural forces". He embodies dreams and his siblings include Death, Delirium, Desire, Despair, Destiny, Destruction.
Morpheus' controls not only the night-time visions we have but also dreams in the metaphorical sense - the ambitions, hopes and desires which consume our existence.
In the first issue of the original comic run, Morpheus is captured by an occultist in an attempt to capture Death. While trapped in a basement for decades, Morpheus' realm crumbles and decays, and scores of people around the world enter a state of either eternal slumber or eternal waking.
When he finally escapes he begins a quest to find items taken from him in his capture, spread out throughout the world - his helm, sand pouch and dreamstone. Each of these items give him his dreamy powers.
Gaiman's 'Sandman' is dark, sometimes very dark and mysterious but full of the wit and wonder that his other works are known for. All in all, Gaiman has written 75 issues spanning from 1989 to 1996.
Why is it such a big deal?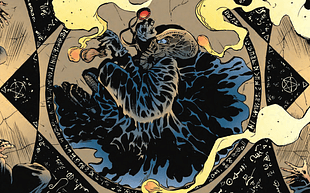 'The Sandman' is regarded as one of the best graphic novel series of all time. It's longevity has compiled fans across multiple generations and it has been celebrated for its progressive themes and characters.
One aspect of the series' success is its sheer scope. The stories within flow throughout a long-running arc and take the reader to very unexpected places. There are stories involving William Shakespeare, stories where we travel into dreams within dreams - not dissimilar to 'Inception'. There's even some 'Batman' crossovers involving Arkham Asylum and some well-known villains (It is a DC comic, let's remember).
Fans have also been waiting for 'Sandman' to appear on screen for quite a while, so there's quite a bit of anticipation. There were plans for a movie way back in the 90's, with Roger Avery attached. However, by 2001 it was stuck in development hell. Filmmaker and producer David S. Goyer then expressed interest in 2013 and more plans involving Joseph Gordon Levitt in the main role were discussed. Again, it fizzled out, even with a written script by Jack Thorne.
Netflix finally struck a deal with Warner Brothers in 2019, with Goyer still attached. The rest, as they say, is history. The dream was finally coming true.
Who's behind the Netflix adaptation?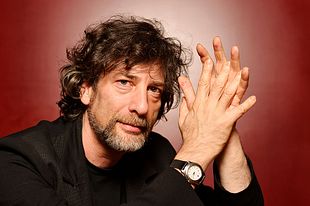 Thankfully, Gaiman himself is one of the creative forces behind the upcoming show. The architect of the story was very involved in the making and wrote the first episode. That means the differences from the comics will be carefully adapted, which will be a relief for fans. There will be some changes to suit a more flowing TV narrative and introduce new audiences, but it will still be very much Gaiman's vision.
Other developers include Goyer, who was involved in Christopher Nolan's 'Dark Knight' series, alongside Allan Heinberg, creator of the 'Young Avengers' comics.
Dream will be played by Tony award nominee Tom Sturridge. Gaiman claimed in a recent interview that Sturridge was one of over 1500 auditions for the main role. He was in the first ten auditions Gaiman saw, but an extended audition period due to the pandemic made sure the author found the right man.
The rest of the cast is made up of an abundance of talent. 'Game of Thrones' Gwendoline Christie will play Lucifer, Jenna Coleman plays the gender-swapped Johanna Constantine, David Thewlis plays John Dee, Charles Dance plays Roderick Burgess and Boyd Holbrook plays the sinister Corinthian. Stephen Fry, Patton Oswalt, Mark Hamill and Kirby Howell-Baptiste also feature.
Who is the series for and what can we expect?
'The Sandman' is not just for comic lovers. It's for anybody who broadly enjoys fantasy, horror and sci-fi. It's a seminal work for many modern characters (including Morpheus from The Matrix). So, there will be many familiar themes to newcomers.
It's an inclusive, progressive and at times prescient story which is bound to resonate with modern audiences.
Since it's very close to the arc of the original story, there's also no need to have to read up on comics before watching. However, it may help. If you're interested in reading some before the series comes out, this writer would suggest starting with the 'Preludes and Nocturnes' volume, which includes the first 11 issues.
Talking to Collider, Gaiman stated, "I think that if you're somebody who loves the original comics, you will love the Netflix series. If you're somebody who knows the original comics well, you will have an absolute advantage. But, much like Game of Thrones, while you will have an advantage, you will not always be one step ahead."
There is huge potential for the series, and the cast is full of incredible and well-loved actors. If all goes well, we could see multiple seasons of the show. Gaiman has already stated he has plans for more than one season. We can only dream of what's to come.
'The Sandman' arrives on Netflix on August 5.