Every so often, fans (okay, fans with deep pockets) have the opportunity to own some very cool items of music memorabilia when they are up for auction.
Kurt Cobain's guitar was sold for a record amount earlier this year, while Jack White recently auctioned off various pieces from The White Stripes' heyday.
However, The Notorious B.I.G's crown is undoubtedly one of the coolest items of hip-hop memorabilia out there - and now it's going under the hammer.
Biggie Smalls wore the plastic crown on a photoshoot dubbed 'The King of New York' with photographer Barron Claiborne just days before his death in 1997. The iconic photo, set against a red background with the crown at a jaunty angle, is one of the late rapper's most famous images.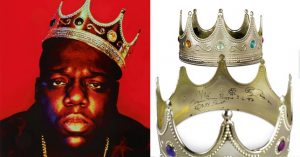 Now, auction house Sotheby's are selling it along with three images from the same photo series - and the lot is expected to sell for $200,000 to $300,000.
Hip-hop fans, it's time to break open the piggy banks...