As you may know, the 40th anniversary of John Lennon's death is approaching and fans are now been given the opportunity to own a rather macabre piece of memorabilia.
Lennon was 40 when he was shot dead by Mark David Chapman outside the Dakota Building on December 8th, 1980.
Earlier that day, the former Beatle had signed a copy of the album 'Double Fantasy' for the man who would turn out to be his killer before heading to the studio with Yoko Ono. There is even photographic evidence of Lennon signing the album (main pic). When he returned to the Dakota several hours later, Chapman shot him twice in the back and twice in the shoulder as he entered the building.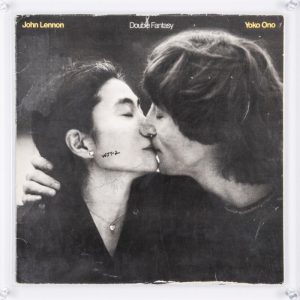 Now, the album is going up for auction with bidding starting at $400,000.
Lennon's signature along with '1980' can be seen on Yoko Ono's neck, and as the listing explains, there are also various markings left by police on the record, as it was used as evidence at the time.
Chapman, who was recently denied parole for the 11th time, apologised to Yoko Ono in his latest parole hearing and admitted that he killed Lennon for 'glory'.